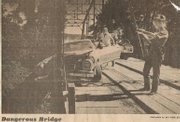 Douglas County's longest-serving female sheriff's deputy will turn in her badge and call it a career this Friday.
It wasn't without struggles that Lt. Kari Wempe survived 33 years on the force.
"It's been quite a path," said Wempe, 54, who climbed the ranks to become a top administrator for the Douglas County Sheriff's Office. "It's been rewarding and challenging."
As a woman, Wempe had to be cautious about stepping on people's toes, said Sheriff Ken McGovern, but he said Wempe proved herself and became well-respected by law enforcement officers statewide.
Wempe said there was a culture change when she joined the agency as a patrol deputy on Sept. 1, 1975. She was hired during an era in which it was commonly believed that women didn't belong in law enforcement, McGovern said.
While looking at an old newspaper picture of her one month after she started, Wempe recalled a man she arrested more than three decades ago calling her "Farrah Fawcett pig" in open court, because of her long blonde hair and youthful appearance.
But for the most part, Wempe said, the people of Douglas County embraced her as a female officer.
"I was welcomed," she said. "I'm grateful for that."
The sheriff's lieutenant credits many people for allowing her to have a successful career. Wempe said it all started when former sheriff Rex Johnson hired her and Loren Anderson, who later succeeded Johnson as sheriff, was her training officer. She served under four sheriffs, including former sheriff Rick Trapp.
After spending six years on road patrol, Wempe worked her way up — first gaining charge of the law enforcement agency's warrant division, followed by many years in investigations, being selected to help the county transition into a new jail, and finally being asked to be the sheriff's public information officer and department spokeswoman in 2005.
"Pretty much I've hit every department, besides being the undersheriff of the sheriff. Who knows what will come later," Wempe said with a big laugh.
Wempe brought a positive attitude, personality and knowledge to the department, McGovern said. He said it will take about three people to fill her shoes because of her vast knowledge of the department.
"It's going to be tough to lose her," the sheriff said.
Wempe said it will be difficult to forgo the family atmosphere within the sheriff's office. She said deputies there have always developed a close bond, in which they look out for and give advice to one another.
"We care about each other deeply, and that's one thing that's going to be really hard to leave," the lieutenant said before breaking out in tears.
McGovern said Wempe will always be a part of the sheriff's office family, even when she's gone. And she won't be going very far.
Wempe, who will be recognized at a public celebration on Friday, said she's retiring to maximize her benefit under the Kansas Public Employees Retirement System.
After enjoying the holidays with her family and visiting relatives in Colorado, Texas and Illinois, Wempe plans to return to work in a different capacity in February.
She'll become a personnel specialist for Douglas County, this time working as a civilian in the county administration department at the old county courthouse, near the sheriff's office.
McGovern said he's fortunate Wempe will only be a phone call away, and Wempe said she looks forward to continuing her service to the county's residents.
"The work has been absolutely marvelous," Wempe said. "It's just been a privilege … and an honor to work for this department."
Copyright 2018 The Lawrence Journal-World. All rights reserved. This material may not be published, broadcast, rewritten or redistributed. We strive to uphold our values for every story published.