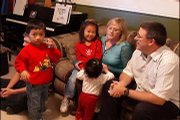 Procedures for international adoptions
Here are some initial steps to take if you're considering adopting internationally, according to Adoption and Beyond of Overland Park:
• Find an adoption agency and research a birth country from which to adopt.• Complete the Home City process, having your home approved by a licensed child placement agency.• Prepare foreign documents and complete immigration paperwork.• Look over and choose a special-needs child or have a healthy child referred to you by the agency.
Typically, the first four steps of the process take about three months to complete.
Eudora — "The more the merrier" may be the most fitting expression for the Walrod family.
"We have always wanted a big family," said Paul Walrod, father of six.
"They keep us so busy we don't have time to think about anybody else," Cherri Walrod said, as she sat back laughing. "There is a joy in watching them."
This year, the holiday season is different for the Eudora family of eight. Sixteen-month-old Samara squeezed in at the table, joining Loryn, 19; Landon, 14; Jamison, 12; Jintry, 5; and Simon, 4. And the family wouldn't want it any other way.
While the family's first three biological children have spent their entire lives learning about and celebrating in the American holiday spirit, Jintry, Simon and the newest addition, Samara, are just beginning to blend the American holiday with their Asian roots. Jintry and Samara are natives of South Korea, while Simon was born in China.
Paul and Cherri Walrod first looked into adoption seven years ago and have participated in an international adoption program since. With help from Dillon International, Inc., an Oklahoma-based adoption agency, the family was able to turn a dream into a reality.
"My wife brought it up as an option … see if that's God's will and, if it was, he would lead us in that direction," Paul said.
The process also brought home a much-anticipated sister for their oldest daughter.
"It's kind of something my parents felt called to do," big sister Loryn Walrod said. "When my parents had my two brothers, I always wanted a little sister, and now we have them."
Samara was brought home just in time for the holiday season — Oct. 10, to be exact. It wasn't an easy road.
"For her to be here is a miracle. She was born at 23 weeks weighing just over three pounds," Cherri said.
The Walrods have adopted three children. Are they done?
"Depends on the day," Cherri Walrod said, laughing. "The process this time was a little more draining."
The family hasn't completely ruled out another addition, but now would like to shift its focus to helping others provide "forever families" for homeless children worldwide. The family is now working to educate and assist others through what can be a very lengthy and expensive adoption process.
According to United States Citizenship and Immigration Services, there were 19,471 international adoptions during the last fiscal year.
"One barrier that we have found that affects families is cost," said Steffany Aye, executive director of Adoption and Beyond in Overland Park.
In addition, demand is high for families willing to adopt special-needs children.
"Special needs can range greatly, everything from being a foster child to severe disabilities," Aye said.
Angela Kopplin of Dillon International said finding families for special-needs children is important.
"We have a strong special-needs program and we do need families for that," Kopplin said. "Anything from minor special needs, up to cleft lip and palate."
In addition to Samara being born 17 weeks prematurely, Simon was born with a cleft palate. Kopplin said special-needs children flourish in the United States because of accessible health care and the loving households they live in.
"They are a little behind developmentally and it's just a matter of days and weeks before they catch up because of regular love and touch," Kopplin said.
The Walrod family is experiencing that transformation with Samara, not quite two months after she was brought home.
"It's a really big blessing," Loryn Walrod said about her little sister's personality opening up.
Loryn is getting involved in the adoption community independently. She is studying at Baker University in Baldwin City and plans to pursue a career in the field.
Copyright 2018 The Lawrence Journal-World. All rights reserved. This material may not be published, broadcast, rewritten or redistributed. We strive to uphold our values for every story published.