Photo Gallery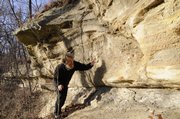 Baldwin Woods
Kelly Kindscher and Rex Buchanan lean over a creek, examining — touching — a vein of crumbling coal, wondering whether it would burn in a woodstove.
What's remarkable is not that there's coal in this creek — it's named Coal Creek, after all — but rather that Buchanan and Kindscher can see it to begin with.
The water here is as clear as a lens, illuminating moss-covered limestone, worn smooth from nature's constant force. Behind the duo is a 40-foot sandstone bluff, complete with initials carved in the late 1800s. In front of them is dense forest, featuring some trees now into their third century of growth.
Buchanan, a leader with the Kansas Geological Survey, picks up a pebble and tosses it like a dart at a flat stone farther down stream. Onlookers focus on it as he points out the ripples on its face.
"You are basically looking at 350 million year old ripple marks in the sand," Buchanan said, explaining that the ripples are evidence of a time when the area was covered with massive amounts of water.
A find in the forest. And a realization, too.
"I would say almost anyone in Lawrence, if you blindfolded them and brought them out here, they wouldn't guess they were still in Kansas," Kindscher said.
• • •
But this is Kansas. Douglas County, in fact. It is an area known as the Baldwin Woods, a swath of more than 2,000 acres of hardwood forest between Lawrence and Baldwin. This small piece is part of a pair of privately owned parcels totaling 256 acres south of County Route 460.
Not only is this Douglas County land, it is really important Douglas County land, say environmentalists like Kindscher and Buchanan. Important enough that Douglas County commissioners and Lawrence city commissioners soon will be lobbied to spend upwards of $450,000 to help the Kansas Land Trust purchase a conservation easement that would forever guarantee that the 256 acres remain undeveloped.
"This strikes me as the posterchild for open-space preservation work," Buchanan said. "It is just a beautiful place."
But these aren't exactly ideal days for any project that involves local government spending more money. Douglas County commissioners recently were told that they likely will have to make serious cuts to the recently approved 2009 budget. City commissioners already have been through two years of cost-cutting measures that have led to a handful of City Hall layoffs.
That may leave the project facing a route through City Hall as steep as some of the hills on the property. Mayor Mike Dever said he has concerns about whether the city can help make the project a reality.
"The money is obviously going to be the major issue," Dever said.
• • •
Jason Fizell, executive director of the Lawrence-based Kansas Land Trust, said there never will be a perfect time to pursue the preservation project. But he said now could be a particularly troubling time to reject the idea.
The property has been selected by ECO2, a city-county advisory board, as the location for the first major open space project in a program that seeks to balance the interests of economic development and land preservation.
The ECO2 concept, which both city and county commissioners have endorsed, calls for the community to invest in open space projects whenever public funds are used to build new industrial or business parks. For months now, city commissioners have been discussing spending public funds to purchase and renovate the former Farmland Industries fertilizer plant into a new business center. Commissioners just last week authorized staff members to submit a new bid for the 456-acre piece of property, which is tied up in bankruptcy court.
Fizell said his group is now looking for some assurances that if the Farmland project moves forward that city and county commissioners will follow through with the ECO2 concept by committing money to the Baldwin Woods project.
"I do think as an article of good faith, it makes a lot of sense," Fizell said of moving the Farmland project and the Baldwin Woods project together at the same time. "The ECO2 process has brought people from different viewpoints together. I think there is a greater degree of trust now, and it is important not to lose that."
City commissioners agree with that, but the road for the project may still be bumpy. Money issues aside, Dever said he would like the first ECO2 project to be closer to Lawrence, and he's not sure he's thrilled with the idea of a conservation easement. A conservation easement wouldn't turn the property into parkland available for the public to explore. Instead, the property would remain in the hands of the current owners: Ray Wilber and Cathy Dwigans and the corporation Common Land Farm LLC. The conservation easement essentially would ensure that neither the current owners nor any future owners could develop the property.
But for the estimated price of about $450,000, that may not be enough for some.
"I have some hesitancy," Dever said.
• • •
Such consternation may be fitting for this piece of ground. More than a century ago, this place was the ultimate fish-or-cut-bait land. The place where the rubber met the road, if rubber and roads actually existed back then.
During the westward expansion of the 19th century, the Baldwin Woods was a place a pioneer would not soon forget. That's because it was right about here that the world began to look very different.
After miles and miles of traveling through the thick, bountiful forests of the eastern United States, this is where it ended. Even today, this area is considered to be part of the western edge of America's great eastern deciduous forest.
But 150 years ago, that probably meant more than it does today. Just imagine, somewhere just west of here, pioneers emerged from the thicket and were confronted with a sea of grass — and a question: Do we really want to do this?
"As soon as you go west of here they started calling it the Great American Desert," Fizell said. "I think this was really the last refuge for a lot of folks."
• • •
Today, on a smaller scale, it continues to be a land where change begins to come into focus. The property is lined with gravel roads worn slick by rural residents who live in beautiful homes with shake shingles and redwood decks that overlook Mount Oread.
Atop the property that Buchanan and others hope to preserve, there's no denying it would make a great front porch. Dense woods, patches of native grass, and in the spring "a carpet of wildflowers." And, of course, the view.
Buchanan and the others worry there won't be one front porch but dozens. The view would remain, but the land would be forever changed, they say.
"That's why now is the right time to do this," said Buchanan, who is a member of the ECO2 commission. "This is the type of thing that if you wait, sometimes you may wait too long."
Copyright 2018 The Lawrence Journal-World. All rights reserved. This material may not be published, broadcast, rewritten or redistributed. We strive to uphold our values for every story published.