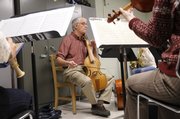 Lilting music is creeping from behind the door of a fifth-floor rehearsal room at Murphy Hall.
In a cramped space, 10 musicians are doing their best to imitate music from hundreds of years ago.
Sure, playing on instruments designed to be like those from the Baroque and Renaissance eras is a challenge in proper tuning. And imitating a style that existed before recordings requires a lot of research and thinking.
But members of Kansas University's Collegium Musicum wouldn't have it any other way.
"It sounds more like it was intended to sound," says Bailey Pike, an undergraduate student who is majoring in musicology and who plays the recorder. "I bet it would sound pretty accurate."
Collegium Musicum, in Latin, means "musical group." Many American universities have ensembles by the same name.
The local group — both its instrumental and vocal reincarnation — will present a holiday concert at 7:30 p.m. Thursday at the Bales Organ Recital Hall, adjacent to KU's Lied Center.
The KU Collegium Musicum has been around about 50 years. It's been under the direction of Paul Laird, a professor of music and dance, since 1996.
"It keeps the music alive," Laird says. "It tells us a lot more about what music sounded like."
It's not uncommon for musical groups to play the type of music the Collegium Musicum plays, which typically ranges from the early 1500s to the late 1700s. But it's less common for them to both play on period instruments and attempt to imitate the style of the time.
Instruments include:
• Strings such as a violin and cellos, which are shaped slightly differently and use strings made of sheep gut — not the nylon variety found today.
• Recorders similar to those played by elementary school children.
• A natural horn, which is similar to a French horn but without valves.
• A harpsichord.
As far as style goes, early music isn't played with much vibrato. And much of the music is written simply, with performers required to add their own trills and turns.
"It's up to the performer to know what's appropriate," Pike says.
The Collegium Musicum is composed of mostly musicology students wanting to get an inside look at the old scores and composers they're studying. There are undergraduate and graduate students, and even a few faculty members.
One of the longest-tenured members of the Collegium Musicum is Christine Anderson, a lecturer in the history and humanities and Western civilization departments at KU. She's played in the group for eight years.
"Renaissance and Baroque music has always been my favorite genre of classical music," she says. "I'm a historian — I like that attempt at authenticity. With what we hear today, Bach (music) is not how it sounded in Bach's time."
Joining the instrumental Collegium Musicum at Thursday's concert is the vocal Collegium Musicum, directed by doctoral student Matthew Thompson. Like the instrumental group, the 24-voice choir attempts to perform in the style of previous centuries.
"In music, every piece is a dance. At least I treat it that way," Thompson says. "That's especially the case with early music."
Thompson and Laird say they see Thursday's concert as an opportunity for people to hear holiday music that's off the beaten path.
"They can experience the season in a unique, fresh way," Thompson says. "It's nice to keep these things out there."
Copyright 2018 The Lawrence Journal-World. All rights reserved. This material may not be published, broadcast, rewritten or redistributed. We strive to uphold our values for every story published.