Photo Gallery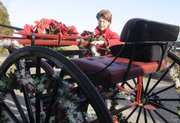 Downtown Lawrence Old‐Fashioned Christmas Parade
Past Event
When: Saturday, December 6, 2008, 11 a.m.
Where: Downtown Lawrence, Lawrence
Cost: Free
-->
-->
Kay Wolfe and her 12-year-old horse Mary Rose are seasoned veterans when it comes to the Lawrence Old-Fashioned Christmas Parade.
"We've been doing it for eight years," the Kanwaka resident said. "When she first learned to drive, I went and bought my first horse cart, and my son and daughter-in-law immediately said, 'Now we can be in the Christmas parade.' "
And they've been in the parade each year since.
This year Mary Rose will be outfitted in a harness with bells and poinsettias. Her Amish cart will also be decorated in a holiday theme.
Wolfe said her daughter-in-law, Lynn Irvin, will join her in waving to the crowds along Massachusetts Street this year.
"It's just like a holiday for horse people in Lawrence," Wolfe said.
Phil Bradley, a member of the parade's board of directors and a parade announcer, said the parade is true to the traditions of the Victorian era.
That means no pickup trucks or floats, just horse-powered entrants.
"It's such a joy to see these traditions being carried on," Bradley said.
Lawrence residents aren't the only participants in the 16-year-old tradition.
Horse owners from Missouri, Oklahoma, Nebraska and Iowa are expected to take part in the parade.
"This is something you don't get to see anywhere else," Bradley said.
He said participants put love and craftsmanship into their holiday-themed presentations.
The parade starts at 11 a.m. Saturday and lasts for about an hour. The route begins at Seventh and Massachusetts streets and travels south past the courthouse to 13th and Massachusetts streets.
Planned route
The main route for the Lawrence Old-Fashioned Christmas Parade will be on Massachusetts Street from Seventh to 13th streets.
But you can also catch the wagons and carriages as they leave their staging area at the Douglas County 4-H Fairgrounds at 19th and Harper streets before the 11 a.m. parade start.
The entries will follow this route: Along Harper from 19th to 15th Street; west to Connecticut Street; and north to Seventh Street, where they will line up for the parade.
Sunflower Broadband's Channel 6 will broadcast the parade live from Seventh and New Hampshire streets. The telecast will also be available on Video on Demand after it airs.
Copyright 2018 The Lawrence Journal-World. All rights reserved. This material may not be published, broadcast, rewritten or redistributed. We strive to uphold our values for every story published.