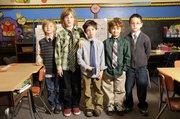 Some men have difficulties getting their neckties to look just right, but one Lawrence second-grader makes it look easy.
And he's started a new trend in the process.
"My dad started wearing a tie and my dad wanted to buy me a tie," said 7-year-old Wyatt Carson, a student at Pinckney School.
Once Wyatt started dressing up for school almost every day, four of his friends followed in his footsteps.
"Since he was wearing a tie, I would like to wear a tie," said 8-year-old Oliver Broce. But Oliver did admit he doesn't own a real tie because they look difficult to get on.
Seven-year-old Hunter Jones also begged his mom for the latest fashion. "Wyatt and Oliver did," he said. "Sometimes I just want to look nice for school."
Wyatt's mother, Amy McVey, said at first she thought her son was kidding.
"I didn't think he was serious," she said. "But he kept asking every day and so we went on the hunt."
Plus, Wyatt didn't want a clip-on or a tie that was already in a knot. He wanted the real thing, which wasn't easy to find.
But once they found the navy blue necktie, he started wearing it every day. And he feels "pretty good" about being a trendsetter.
"I have three or four," Oliver said.
McVey noticed that the friends were all donning neckties. "I spoke to their mothers and sure enough, they went home and asked for a tie."
Wyatt says he looks up to his father, who is in advertising, because "he's smart."
And so is the boys' new look.
"They're cool," Hunter said.
But neckties might be passé as soon as Wyatt breaks out his latest accessory.
"We actually have a bow tie now that he's going to start sporting to school," McVey say.
Copyright 2018 The Lawrence Journal-World. All rights reserved. This material may not be published, broadcast, rewritten or redistributed. We strive to uphold our values for every story published.