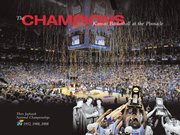 A famed photographer who has documented three national champion Kansas University basketball teams now has published a book of photos commemorating those teams.
Rich Clarkson, a 1950 graduate of Lawrence's Liberty Memorial High School and 1956 graduate of KU, has published "The Champions: Kansas Basketball at the Pinnacle." He'll be in Lawrence this week to talk about the book and sign copies.
Clarkson, whose career included a stint at the Lawrence Journal-World, covered the 1952 KU title as a college freshman. He also photographed the 1988 and 2008 titles.
The 112-page, hardcover book is a portfolio of his time shooting these teams. It also includes essays representing each team by former players Bill Hougland, Chris Piper and Darnell Jackson.
Clarkson's long career has included time at National Geographic, Sports Illustrated, Time and the Denver Post. He now owns Rich Clarkson and Associates LLC photography service based in Denver.
Clarkson will sign copies of his book from 5:30 p.m. to 7 p.m. Thursday at the KU Bookstore in the Kansas Union. He also will appear at Borders, 700 N.H., from 11 a.m. to 1 p.m. Saturday.
Copyright 2018 The Lawrence Journal-World. All rights reserved. This material may not be published, broadcast, rewritten or redistributed. We strive to uphold our values for every story published.