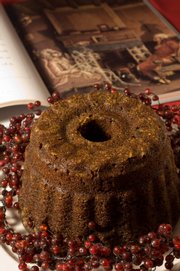 London — What's on Tiny Tim's table?
Despite the Cratchits' blistering poverty, a feast not dissimilar to those that will grace many tables this holiday season. A roasted goose stuffed to bursting, mashed potatoes, gravy, applesauce and of course plum pudding.
It's a portrait of celebration — first cast by Charles Dickens during the mid-1800s in his now ubiquitous "A Christmas Carol" — so appealing, and so lovingly crafted, it's as if Dickens invented the holiday himself.
He didn't, of course. But his words wielded considerable influence over how people celebrated during his era — and ours.
"That image of everyone sitting around the table with a great big goose — this is when it comes about, in the 1830s and 1840s," says Alex Werner, a senior curator of social and working history at the Museum of London.
During the early part of the 19th century, Christmas was a ho-hum holiday. But Victorian-era conservatives became enamored with a longing for simpler, more ordered times.
Dickens' tale of Scrooge, the Cratchits and the ghosts of Christmas Past, Present and Future helped fuel the phenomenon.
First published on Dec. 17, 1843, the work "A Christmas Carol, In Prose. Being a Ghost Story of Christmas," sold over 5,000 copies by Christmas Eve. Reprints followed. So did stage productions and movies.
Many of the ideas now associated with Christmas started during that era, Werner says. Family members scattered for work in the newly industrial era travel home. Chestnuts roast. Greeting cards are dispatched.
Even the Christmas tree, long a staple in German households, took off in Britain after a print appeared in the Illustrated London News in 1848 showing Queen Victoria, Prince Albert and their children gathered around one.
"An awful lot of things we're living with are legacies of the Victorian era," says Valerie Mars, an honorary research fellow and social historian at University College London's anthropology department. "It's the recent old. It's accessible old."
And of course, there's the feast, usually anchored by a big bird supplemented with side dishes and spiced up with exotic offerings from other lands — currants, Madeira — then newly accessible because of improvements in transportation.
Dickens loved writing about food. He goes on at length about the people and offerings of Scrooge's world. There are parties and feasts, young boys sent to fetch monstrous turkeys, and loving descriptions of the Cratchits' Christmas dinner.
Dickens' characters seem equally enamored with food. He describes Mrs. Cratchit's nerves as her expectant family waited to see if the plum pudding (dessert) had cooked properly.
She entered the room, flushed "but smiling proudly; with the pudding, like a speckled cannon-ball, so hard and firm, blazing in a half-a-quartern of ignited brandy and bedight with Christmas holly stuck into the top."
Bob Cratchit is in love.
"He regarded it as the greatest success achieved by Mrs. Cratchit since their marriage," Dickens wrote.
•Steamed pudding molds are widely available online, most selling for about $20. These resemble small fluted cake pans with tight-fitting covers designed to keep moisture inside during cooking.
Alternatively, if you don't have a steamed pudding mold, a large metal coffee can can be used. You will need several layers of foil and kitchen twine to cover and tightly seal the can during cooking.
STEAMED PLUM PUDDING
2 tablespoons granulated sugar
4 slices soft white bread
1 cup all-purpose flour
1/2 teaspoon salt
1/2 teaspoon baking soda
1/2 teaspoon nutmeg
1/2 teaspoon cinnamon
1/4 teaspoon ground cloves
1/4 teaspoon ground allspice
1/8 teaspoon ground mace
3 eggs
1/2 cup shortening
1/2 cup packed brown sugar
1/2 cup molasses
1/2 cup raisins
1/2 cup currants
1/2 cup prunes
1/4 teaspoon orange extract
Brandy, to serve (optional)
Whipped cream, to serve (optional)
In a large stockpot, bring 3 to 4 quarts of water to a boil. Coat the inside of a 7-cup steamed pudding mold with cooking spray, then add the granulated sugar and shake to evenly coat the sides and bottom of the mold.
In a food processor, pulse the bread until reduced to fine, soft crumbs. Add the flour, salt, baking soda, nutmeg, cinnamon, cloves, allspice and mace, then pulse several times to mix. Transfer the mixture to a bowl.
In the food processor, combine the eggs, shortening, brown sugar and molasses. Process until smooth, scraping the sides of the bowl as needed. Add the raisins, currants, prunes and orange extract. Pulse until the fruit is chopped, but not pureed.
Return the dry ingredients to the processor and pulse just enough to thoroughly mix them with the wet ingredients. You likely will need to scrape down the sides of the bowl once or twice between pulses.
Transfer the mixture to the prepared mold, then tightly seal with the cover (or with several layers of foil tied tight with twine). Place the mold in the stockpot; the water should come about halfway up the mold.
Cover the stockpot and lower the heat to maintain an even simmer. Steam the pudding for 2 hours. Remove the mold from the stockpot, uncover the mold and let cool for 15 minutes.
Unmold the pudding by inverting it onto a plate. If desired, drizzle the pudding with brandy, then slice and serve topped with whipped cream. Serves 10 to 12.
•Goose was so important in the Victorian-era people would save — and save — for the big day, often joining the equivalent of modern-day Christmas club accounts to afford a plump, juicy bird.
When shopping for your own goose, plan for about 1 1/2 to 2 pound raw weight per serving. Geese are incredibly fatty birds and will shrink considerably during roasting.
For that reason, during roasting it is a good idea to periodically check the level of rendered fat in the roasting pan. If it is getting to high, use a basting bulb to remove some.
PEPPERCORN-AND-THYME-ROASTED GOOSE
3 tablespoons cracked mixed black, white and green peppercorns
3 tablespoons fresh thyme leaves, divided
1/2 cup extra-virgin olive oil
1 tablespoon chopped garlic
Salt
7- to 10-pound goose, cleaned
Ground black pepper
1 large yellow onion, quartered
2 large carrots, peeled and chopped
2 stalks celery, chopped
1/4 cup unsalted butter, cut into pieces
Heat the oven to 375 degrees.
To prepare the glaze, in a small bowl mix together the peppercorns, 2 tablespoons of the thyme leaves, the olive oil and garlic. Season with salt, then set aside.
Season with outside and cavity of the goose with salt and pepper. Brush the glaze over the outside of the goose, reserving any extra for basting during cooking.
Arrange the onion, carrots and celery in a roasting pan. Set the goose on top of the vegetables. Roast for 2 to 2 1/2 hours, basting occasionally with drippings and any remaining glaze.
The goose is done when it is golden brown and crispy, the juice from the cavity runs clear, and an instant read thermometer inserted at the thickest part of the breast and innermost part of the thigh reads at least 165 F.
Cover the goose with foil and let it rest for 15 minutes.
Meanwhile, prepare the sauce. Pour the pan drippings through a mesh strainer and into a fat separator. Discard the fat, or reserve it for another use.
In a small saucepan over medium heat, whisk together the butter and pan juices. Chop the remaining 1 tablespoon of thyme, then add that. Season to taste with salt and pepper.
Carve the goose and serve with the pan sauce. Serves 4 to 6.
(Recipe from Charlie Trotter's "Home Cooking with Charlie Trotter," Ten Speed Press, 2008)
Copyright 2018 The Associated Press. All rights reserved. This material may not be published, broadcast, rewritten or redistributed. We strive to uphold our values for every story published.