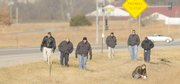 Take precautions
• At home, use a deadbolt lock. Never open the door for strangers. If you come home and something looks wrong or different, do not enter. Go to a safe place and call police.
• On the street, do not go out alone. Vary your walking routines and routes. Become familiar with safe places, such as businesses that are open late.
Stay away from bushes and parked cars; instead, walk in the center of the sidewalk.
• In the car, always lock the doors, even when you leave it. Park near lights at night and have your keys in hand. Keep your gas tank at least one-quarter full.
If your car breaks down, stay in the locked vehicle and request police be called if a stranger offers to help.
SOURCE: Lawrence Police Department
Law enforcement officers Tuesday were searching an area in southwest Lawrence, a day after a reported early-morning sexual assault at a residence.
More than a dozen officers and Lawrence police detectives flooded the area of 27th Street and Wakarusa Drive, including a stretch of the Kansas Highway 10 bypass.
"Wow. Why would someone assault someone else here? I have no idea what to say to it," said Arianna Warren, a neighbor. "It's all kind of shocking."
The officers were walking nearly shoulder-to-shoulder through grassy areas. Police earlier had said at 2 a.m. Monday an unidentified man entered a 19-year-old woman's southwest Lawrence residence and sexually assaulted her.
Neighbors said they were pleased that police were going to such lengths during their investigation.
Jenni Hinckley said she felt safe in the neighborhood, but the reported assault was a reminder to be vigilant. "It's important to always be careful and to just be aware of where you are and your surroundings," she said. "Not that as the victim, it was her fault by any means by not being safe, but you always want to be safe."
The Lawrence Police Department has asked anyone with information to call the investigative division at 830-7430 or the TIPS hotline at 843-TIPS.
Copyright 2018 The Lawrence Journal-World. All rights reserved. This material may not be published, broadcast, rewritten or redistributed. We strive to uphold our values for every story published.