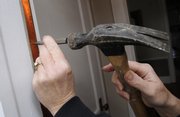 V-shaped metal weather stripping or rolled spring seal weather strip is by far the most efficient means to weather-proof your exterior doors. Though costlier and more difficult to install than traditional foam weather strip, this original type of weather strip is worth the extra effort.
Step 1: Place the edge of the first piece of weather strip tightly against the door stop along the side of the door frame with the v-point facing in and the v-opening facing outdoors. Use a nail set and hammer to tack the strip into place.
Step 2: Install the second section of weather strip on the opposite side of the door, using tin snips to cut around the strike plate, allowing the door to latch.
Step 3: Use your tin snips to miter the edges on the last piece of weather strip, so it fits nicely along the top of the door jamb. Nail it into place along the header.
Step 4: Check to make sure your door shuts securely and enjoy a less drafty existence with your newly weather stripped door.
Copyright 2018 The Lawrence Journal-World. All rights reserved. This material may not be published, broadcast, rewritten or redistributed. We strive to uphold our values for every story published.