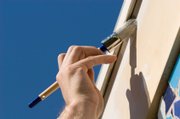 Hey, you. Yeah, you, cowering over there in the corner. What's that you've got in your hand?
Wow, $3,000 in cash, you say. No kidding, you're going to put it under your mattress?
What about stocks? You know what they say, buy low, sell ... Hey, that wasn't very nice.
OK, so stocks are out for you. But let's talk a little bit more about your Serta Savings plan. Yeah, Serta. It's a mattress brand. Geez, nobody has a sense of humor anymore.
Anyway, that mattress idea is a guaranteed way to lose money. Inflation will eat you up. But if you want to keep your money close to home, think about investing it in your home.
Here are some ideas from Lawrence real estate agents on how to invest $3,000 in your home with the idea of increasing the selling price of your home.
"Absolutely, the most cost-effective way to get the biggest return on your investment is to improve the cosmetics," says Gary Nuzum with McGrew Real Estate.
That may mean replacing the most worn piece of carpet in your home, or putting new countertops in that look fresh and modern, or maybe replacing worn vinyl with a little bit of tile.
"Tile helps you compete with the new houses that are being built," says Jo Barnes of ACRES Realty. "And it really isn't that expensive in small areas like an entryway."
Plus, placing your money in areas where buyers are likely to see it immediately is a good strategy. That's why Tom Harper of Stephens Real Estate suggests taking a hard look at your exterior paint.
"If a buyer drives up to a house and it looks worn out, that is not a good thing," Harper says. "They won't even go inside."
So, think sizzle. Or as Barnes says, think like the editor of Martha Stewart magazine. (Calm down, nobody is saying you have to think like Martha herself. No investment is worth that.) But the idea is if you can give your home that glossy, magazine-style look, you're likely to get a lot of interest.
And you may just get something that the stock market likely won't give you right now.
"We think a seller can double their investment on those type of items," Nuzum says. "We think $3,000 spent effectively will increase the value by $5,000 to $6,000."
And what if you don't have $3,000? Yes, there are some cheap things you can do. Paint, neutral color, is always a good investment, all three agents say. Barnes also says a one-year home warranty for about $400 can be a good investment. Giving buyers confidence can be important in this market.
And Harper says if all else fails, "clean, clean, clean."
No, no, I'm not suggesting anything about the cleanliness of your home. I'm just saying ...
Hey, again, not nice.
Copyright 2018 The Lawrence Journal-World. All rights reserved. This material may not be published, broadcast, rewritten or redistributed. We strive to uphold our values for every story published.