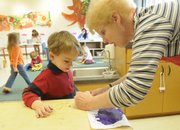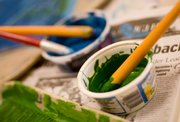 Between all the paintings and sculptures, collages and decoupages, managing children's artwork can be an overwhelming task. Just where exactly is the best place to store your child's 3-foot papier máché recreation of James' giant peach? And just what do you do with that rather gruesome shoebox diorama of the last days of the dinosaurs?
But before you go throwing away your little Picasso's latest cubist masterpiece, here are some creative ways to handle your little creation's creations.
1. The giveaway.
"My favorite thing to do is to use it as wrapping paper or cards and share it with family members as gifts," says Linda Reimond, director of the arts-based preschool program at the Lawrence Arts Center, 940 N.H. Reimond says cutting pieces out and placing them on card stock for note cards can be a meaningful way to reuse and recycle.
2. Create your own home art gallery.
Are your kids still a little too rowdy to take to the Lawrence ArtWalk? Well, get out the berets and serve up the grape juice and cheese cubes — it's time to set up your own artistic display. Just take a cue from the Lawrence Arts Center Preschool and stretch a clothesline along the wall to hang artwork at just the right height for little eyes.
"I always recommend looking for ways to rotate kids' artwork," says Sheila Wilkins, who teaches art at both Sunset Hill and Woodlawn elementary schools. "You can use a standard-size frame, matte it and trade out artwork for an ongoing exhibition."
3. Go digital!
One sure way to clear up the clutter is to take photographs of your children's work and archive on CD for a digital scrapbook. If you're technologically savvy, set the images to music for a unique slideshow.
Alternatively, you can build your child an online gallery that can be shared with friends and relatives via the Internet. And if you don't want to start from scratch, check out programs like Yahoo! site builder or iWeb for templates.
4. As the Italians say, "Fare Un Montaggio!" (in other words, make a montage!)
Lawrence artist Lora Jost recalls her mother's solution to handling all her creations.
"When she was ready to make some choices about what to keep and what to throw, she kept a sampling of the kinds of things I made from different times and put them into a binder for me as a gift," Jost says. "It was a very sweet surprise."
Wilkins, who is currently creating a photographic montage she compares to a patchwork quilt for her sister-in-law, agrees that archiving these early creative works is important.
"They might not know it now," she says, "but they will be so happy to see it again and revisit those times."
Copyright 2018 The Lawrence Journal-World. All rights reserved. This material may not be published, broadcast, rewritten or redistributed. We strive to uphold our values for every story published.