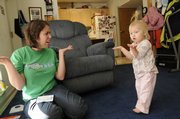 Go Click It
• www.signingbaby.comCreated by a signing mother, this Web site includes articles, signing stories and photographs of babies signing. Updated often.
• www.mybabycantalk.comAnother useful resource on baby signing and also includes a video "dictionary" program.
• www.signingbaby.comWant to learn American Sign Language? Learn it here, with resources for finger-spelling, ASL dictionary and grammar guides, and baby-signing tips as well.
When her son Aiden was 9 months old, Kari Mack decided to teach him sign language as a way to make communication easier. She used flashcards, books and videos for almost two months but didn't seem to be getting anywhere.
Then one day it happened.
"I had just come home from an exhausting day at work. As soon as he saw me he started signing milk with both hands for the first time, like he was milking a cow. He had such a serious look on his face, I couldn't help but laugh," recalls Mack, who quickly picked up on her son's message and breastfed him.
Now 18 months old, Aiden frequently uses sounds to express feelings and needs, and Mack has found this has minimized the tantrums that are common to this age group.
Now they're on to other matters.
"We're working on please and thank you and sorry," Mack says, "so when he takes a toy away in play group or makes a mess on the floor he can say sorry."
Holly Storkel, an associate professor of speech, language and hearing at Kansas University, says children typically say their first word around the time they are 1 year old, whereas they may make their first sign up to three months earlier.
"You don't need the same level of coordination to produce signs as you do to produce speech sounds," says Storkel, who has found the use of signs particularly helpful in her own family.
When Storkel adopted her now 2 1/2 year old son Alex from China last March, his cleft lip and palate made it difficult for him to produce all the different speech sounds. When added to the impending challenge of learning a new language, Storkel quickly decided signing would be an ideal starting point for their communication.
"We started using sign language with him the first week we were back in America," she says. "It's been amazing how quickly he has learned. After about 1 month, he was able to produce about 50 different signs. After about 3 months, he produced over 100."
Alex has since had surgery to correct his palate and his speech is slowly improving. Storkel believes the use of sign language has not interfered with his learning to speak, but rather that it seems to help children in general with language development.
"Studies have shown that introducing a new spoken word with a gesture that highlights some aspect of the word's meaning, helps children learn the new word," says Storkel, who points out that many of the sign language programs for children emphasize signs that bear some resemblance to the item they stand for. "For example, the sign for cat indicates the whiskers of a cat. Thus, the relationship between this sign and the animal is more meaningful."
This may just be the case for 16 month-old Madison Theisen.
"Her favorite sign is 'baby,'" says her mother, Brooke Theisen. "Whenever she sees another child she makes the rocking motion with her arms."
Theisen has been teaching Madison signs since she was 8 months old and is proud to say her daughter now knows more than 30 signs. She says it's important for parents to remain consistent and not give up if their child doesn't pick up on this form of communication right away.
"Just keep doing it over and over again," Theisen says, "and eventually it'll click."
Copyright 2018 The Lawrence Journal-World. All rights reserved. This material may not be published, broadcast, rewritten or redistributed. We strive to uphold our values for every story published.