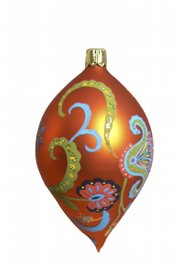 Christmas tree ornaments tend to reflect styles we see in the year's home furnishings, as well as what's on the fashion runway. We like to dress our tree as we dress our rooms and ourselves.
• This season, inspiration trotted the globe, from Morocco to Moscow, Punjab to Pyongyang. Stools and step chests grace the living room, while ethnic fabrics and motifs adorn wall art and clothing. So it's no surprise many holiday ornaments evoke these graphic prints and international sensibilities.
Look for elaborate paintwork and embellishments, tassels, bright good-luck Asian reds and golds. At the other end of the spectrum are graceful, muted tonal shades, simple Zen-like branches, winterberries and blossoms.
• Some see a cultural trend emerging that has to do with nesting, comfort, and home and hearth as a safe haven from the daily storms of life. So childhood treats like candy canes, gingerbread cookies and cupcakes become temptations for the tree.
• With millions of Americans watching "Mad Men," "Life on Mars" and other shows steeped in the styles of the '60s, '70s and '80s, it's no surprise that shelter magazines and on-trend furniture retailers have embraced the mid-century years. Retro-look ornaments such as martini glasses, starbursts and kicky teardrop shapes are smart, fresh and sophisticated once again.
• And for those who dress their homes in all-out glamour, Christmas is a time to really put on the glitz. We see lustrous hues such as persimmon, silver, grape and chartreuse in pretty sweaters, silk jackets and other party wear. There are myriad baubles dressed up in feathers, fur, sequins and glitter.
Copyright 2018 The Associated Press. All rights reserved. This material may not be published, broadcast, rewritten or redistributed. We strive to uphold our values for every story published.