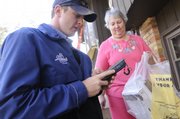 Go Click It
• www.schwans.comThe grocer specializes in ice cream but also offers meat, family-style dinners, breakfast foods and more.
• www.bistromd.comDescribed as chef-prepared, doctor-approved, the food is geared toward dieters. The lowest pricing plan for the home-delivery program averages meals at $8.60 each.
• www.jennycraig.comThe popular weight-loss program shows testimonials and sample menus online but directs readers to call a representative for pricing and other specifics.
For some Lawrence residents, deciding what to eat for dinner is as easy as opening their front door.
Several food companies operating in Lawrence deliver a wide variety of food options directly to their customers.
Resident Kay Rytting says she uses Schwan's' free delivery service for the quality of the food and for its convenience.
"I still go to the grocery store," she says. "It's just kind of my treat."
Jeanette Wisdom, a Lawrence resident, uses Schwan's to supply food for her at-home business.
"I have a daycare, and I use the food for daycare," she says. "Usually we get some ice cream bars and a lot of the breakfast snacks."
Wisdom says she uses the service because she can buy good-quality items in bulk and save some money in the long run.
Delvin Jay, location general manager for the Schwan's regional outlet in Topeka that delivers to Lawrence homes, says the Schwan's truck will come around once every two weeks to deliver to people on the regular route and to take new orders.
"It's a pretty easy process," Jay says. "I think our customers are pretty happy."
In addition to the Schwan's trucks motoring around town, several diet companies also will deliver meals directly to your doorstep.
One such company, Bistro MD, has preprepared meals configured to a specific diet plan. Dick Bruno, the company's chief operating officer, says that the plan was designed to fit a regimen calculated by a nutritionist.
The company has customers in Lawrence and around the country, he says.
"The calorie count and the content is what accounts for it being so successful," he says. "They've lost their weight, and they don't have to cook or go to the grocery store."
Copyright 2018 The Lawrence Journal-World. All rights reserved. This material may not be published, broadcast, rewritten or redistributed. We strive to uphold our values for every story published.