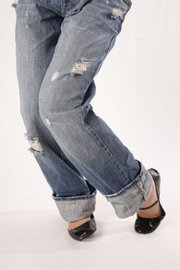 The boyfriend jean is a hot trend worthy of our attention. Move over skinny jean — make way for the slouchy, roomy, wide-thigh jean that is bound to make all tight-pant-wearing, hipsters jealous.
Size:
Comfort is key, but you want to avoid looking like a hobo. These jeans are meant to be worn low, have a long crotch, long legs and roomy thighs — just don't be swimming in the things! They are meant to "fit" you. That being said: Your "boyfriend jeans" do not necessarily have to be your own, real-life, true-blue, actual boyfriend's jeans. A new or vintage pair will do — just be sure to pick out straight leg over boot-cut or flair denim for a flattering, in-style look.
Trouser Roll:
A basic one-roll cuff looks casual and fun. Boyfriend jeans are quite long, so why not avoid tripping and show off your feminine ankles simultaneously? Also, with a pair of patterned stockings or socks, roll your jean-cuffs unevenly. With one leg longer than the other, a flirty, asymmetrical vibe is easy to achieve.
Gucci Roll:
If you can't get over your fitted, calf-hugging skinny pants, the Gucci roll is meant for you. It not only tapers the boyfriend jeans' straight leg but also adjusts the pant-length and provides volume and shape. Don't worry — you won't be channeling M.C. Hammer. He can't touch this.
Chic your Man-Pants:
Similar to the menswear trend, the boyfriend jean must be feminized. Pair bright shoes and colorful stockings with these pants. Don't avoid wearing heels, and don't avoid wearing open-toed pumps with warm leggings. You do not have to wear old, beat-up running shoes or boots just like your brother. Wear cozy, detailed or floral tops in bright shades to reaffirm your gender. One last tip — wear fitted tops that show off your curves. The juxtaposition between loose boyfriend jeans and girly, fitted blouses is another element that makes this trend enticing.
Copyright 2018 The Lawrence Journal-World. All rights reserved. This material may not be published, broadcast, rewritten or redistributed. We strive to uphold our values for every story published.