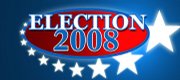 In-depth coverage of the candidates and the issues, all leading up to the Aug. 5 primary and the Nov. 4 general election.
St. Paul, Minn. — Just after John McCain defeated George W. Bush in the 2000 New Hampshire primary, Tony Snow, then an interviewer for Fox News Sunday, asked some prominent Republicans about the senator from Arizona, and he got an earful.
Karl Rove, the manager of the Bush campaign, dismissed him as someone whose "legislative accomplishments are few and far between, because he cannot work well and bring people together and persuade them of a positive issue." Sen. Mitch McConnell (Ky.), on his way to the leadership of Senate Republicans, said most of his colleagues believed that while Bush was "a bridge builder, Sen. McCain is a bridge burner."
Grover Norquist, head of Americans for Tax Reform and a pivotal figure in the conservative movement, told the New York Times about the same time that while President Ronald Reagan fought the liberal establishment, John McCain "kowtows" to it.
This week, McCain will accept the presidential nomination of the same party that Reagan seemed to permanently claim for conservatives, and all three of these former critics have endorsed him. But for the party he will lead, the meaning of his remarkable comeback and victory this year is far from clear. Ask a cross section of Republican leaders, including Rove and Norquist, and you get a variety of answers. Some see it as a revolution, some as a counter-revolution and some as business as usual.
"It's a lot closer to a revolution than to a routine day at the office," former House speaker Newt Gingrich said. "The Republicans are about to nominate the only person in our party distinct enough from the rest to have a chance of winning in what ought to be a very bad year. He is our most 'different' candidate since Teddy Roosevelt."
Some Republicans predict that a McCain administration would differ in some striking ways from those of past Republican presidents: more emphasis on the environment and less on social issues; more emphasis on spending discipline; less on subsidies for business; more emphasis on Iran; less on Iraq.
Asked in a recent interview if those predictions made sense, McCain said: "All of it does in many respects," and then proceeded to amplify many of the changes his election might produce.
"Certainly, the environment has to be a bigger issue," he said. "The overwhelming evidence that climate change is taking place argues that we address the issue." McCain said the environmental issues "fit into a larger challenge of energy independence," and also into what he called "the Teddy Roosevelt tradition" of care for the National Parks - something neglected in the Bush years.
Fiscal policy, he promised, would look very different from the recent past. "I believe the greatest breakdown in our Republican Party," McCain said, "was letting spending get out of control."
Despite his history of opposition to McCain, Norquist said he sees him now as the first Republican since the early years of Reagan who "really focuses on government spending. It would be a radical change for Washington, D.C.," and a controversial one.
Rove, for his part, argued in an interview that it is McCain's personality more than any quirk in his ideology that sets him apart and makes him controversial. "He is broadly within the conservative mainstream of the Republican Party," the former Bush strategist said, "but unlike most legislators, it's the big issues, not the smaller details, that he cares about. And things are personal with him. He sometimes lets his emotions overrule his judgment."
Yet there are clearly aspects of McCain's approach to issues that make him controversial within the GOP. One is his willingness to do business with Democrats and independents, including Sens. Edward M. Kennedy, D-Mass., Russell Feingold, D-Wis., and Joseph I. Lieberman, I-Conn. He has warned his own party to expect more of that from him.
In the interview, McCain said that "Democrats have to play a much larger role" if he becomes president. "They are going to be the majority, and Americans want us to work together."
Copyright 2018 The Lawrence Journal-World. All rights reserved. This material may not be published, broadcast, rewritten or redistributed. We strive to uphold our values for every story published.