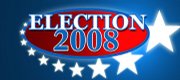 In-depth coverage of the candidates and the issues, all leading up to the Aug. 5 primary and the Nov. 4 general election.
Denver — When they were growing up, they were interested in politics.
But when Barack Obama burst on the scene, they became big-time supporters and heavily involved in his campaign.
Clarissa Unger, a senior at Kansas University; Chelsea Ayres of Wichita, who is starting this fall at Princeton University; and Theresa L. Sims of Lawrence, a 2005 graduate of Kansas University School of Law, attended the Democratic National Convention last week.
Some have described the support of younger people for Obama as something akin to celebrity worship, but these three Kansans expressed pragmatic reasons for their decision to back Obama, such as his skills in bringing people together.
Sims grew up in East St. Louis, Ill., and remembers hearing Obama's speech to the Democratic National Convention in 2004. He said something about how a child in East St. Louis should have the opportunity to go to college.
She felt like he was talking directly to her.
As an African-American woman, Sims said Obama represents the improvements in race relations in this country. And, she said, his organizational skills in guiding his campaign have been impressive.
Ayres, who was an alternate convention delegate, said she served as a U.S. House page and helped start an Obama student chapter at Wichita Collegiate.
She relates to his lower-income background. "I think that teaches you a lot. You can't learn a lot if you're always handed stuff," Ayres said.
Unger has worked hard in Obama's campaign, spending time as a volunteer for his campaign in Iowa and New Hampshire.
And she spent the summer working at his campaign headquarters in Chicago.
"I see what he brings out in people. I've been really impressed with how he motivates everyone to work in the grass roots," she said.
Copyright 2018 The Lawrence Journal-World. All rights reserved. This material may not be published, broadcast, rewritten or redistributed. We strive to uphold our values for every story published.