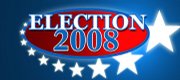 In-depth coverage of the candidates and the issues, all leading up to the Aug. 5 primary and the Nov. 4 general election.
Cleveland — Coming out of the Democratic convention, running mates Barack Obama and Joe Biden pressed economic themes on a Labor Day weekend tour of the industrial heartland as they revved up their campaign for the fall election.
Obama plans to continue the road trip through Rust Belt electoral battlegrounds throughout the Republican convention this week, stressing the competing presidential candidates' divergent responses to the nation's economic troubles.
Joe Biden and his wife, Jill, joined Obama and his wife, Michelle, for the opening days of the campaign swing, the first time the two couples have hit the road together since Obama announced his choice of running mate last weekend.
A memorial service Saturday for a prominent African-American congresswoman from Cleveland who backed rival Hillary Clinton also provided Obama an opportunity to reinforce calls to unity from the Denver convention.
Obama praised the late Rep. Stephanie Tubbs Jones, D-Ohio, as "the embodiment of the generosity that comes with grace - and the fearlessness that comes from knowing what really matters."
Both Clintons also attended, and Obama rose to give the New York senator a pat on the back and kiss on the cheek when she finished her tribute.
Former Rep. Lou Stokes, D-Ohio, the state's first African-American congressman and a political icon in Cleveland, began his remarks by addressing Obama: "Senator, I am 83 years old. Two days ago, you provided me and many in this nation the opportunity to see something that we thought we would never in our lifetimes see."
The campaign swing is focused on shoring up support among white working-class voters, a segment the Illinois senator struggled to win over in the Democratic primaries. Biden gave a full-throated call to arms as he introduced Obama from town to town. "Folks, I've never seen in all my time in Washington where so many people have been knocked down and our government has done so little to help them get back up," Biden said at an outdoor rally Saturday evening at a high school football stadium in a suburb of Columbus, Ohio.
"I could walk from here to Cleveland and I wouldn't run into a single person ... who told me they felt the economy was strong, unless I ran into John McCain," he added.
McCain, Biden charged, "doesn't see the economy the same way Barack and I do, or I suspect any of you do."
Obama was soundly defeated in Democratic primaries in the economically depressed manufacturing centers of Pennsylvania, Ohio and Michigan, big electoral prizes that are shaping up as highly competitive in November. The Obamas and Bidens plan to campaign today in Toledo and Battle Creek, Mich. Obama is to conduct a Labor Day rally in Detroit with AFL-CIO President John Sweeney.
Copyright 2018 The Lawrence Journal-World. All rights reserved. This material may not be published, broadcast, rewritten or redistributed. We strive to uphold our values for every story published.