Photo Gallery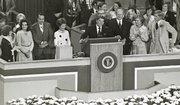 Behind the Lens: Images from '76 Republican National Convention
Watching the Democrats in Denver this week brought back some old memories of covering the 1976 Republican National Convention in Kansas City as a young photojournalist.
Getting into events back then was much easier. It just took ambition and drive - and some long hours. You didn't need a fancy portfolio to get a job - your hard work and good pictures pretty much said it all.
To cover an event like that, you have to have the drive to move around and look for images of important people and things that stand out. If you shoot from the same places other photographers do, your pictures will look pretty much the same. You might as well have the Associated Press or another news service do the work.
Today's photojournalist has a pretty good time - seeing the image, send it back with a laptop and not worry about hazardous darkroom chemicals.
So much has changed since that 1976 convention.
Copyright 2018 The Lawrence Journal-World. All rights reserved. This material may not be published, broadcast, rewritten or redistributed. We strive to uphold our values for every story published.