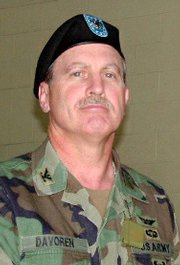 As if balancing a civilian job at Fort Leavenworth and a job as the assistant division commander of the 35th Infantry Division weren't enough, Brig. Gen. John E. Davoren just agreed to take on a little bit more.
Davoren, who lives in Lansing, was promoted this month to commander of the entire Kansas Army National Guard.
He will be in charge of training, deployment and ensuring the readiness of the organization to support missions both nationally and worldwide.
"I was very happy to have the opportunity to fill the position," he said. "It's the opportunity to see a different type of operation for the Kansas National Guard and an opportunity to work with and influence all the units so we will be able to provide support."
Davoren, along with the commander of the Kansas Air National Guard, will report to the adjutant general, Maj. Gen. Tod Bunting. He will replace Brig. Gen. Jonathan P. Small, who is retiring, as commander of the Army division.
Davoren said he wants to ensure the Kansas National Guard continues to have the capability to assist with disasters at home in Kansas as well as handle missions abroad.
In the last couple of years, Kansas has had major disasters in spring tornadoes, summer flooding and winter ice storms. At each, Davoren said, troops with the Kansas National Guard have been on hand to help.
"Our goals are to continue to get better every day so we are an ever-improving asset for the citizens of Kansas and the people of the United States," he said.
Davoren will also be heading the ongoing effort of the Kansas National Guard to acquire new equipment. He said he would be working with other organization agencies to ensure that the new equipment is used appropriately.
Before taking over this position, Davoren was busy with his civilian job of 24 years as branch chief for the Standardization, Analysis and Integration Branch under the U.S. Army Force Management Support Agency at Fort Leavenworth. But for the last 14 months, he was away from home on a mission in Kosovo.
Davoren was sent to Kosovo with a task force on a NATO peacekeeping mission to a region that for the past nine years has been waiting for the United Nations to make a decision on its status as a country.
During his mission, Kosovo announced its independence, and Davoren and his troops, who worked with soldiers from other nations such as Ukraine, Romania, Lithuania and Armenia, ensured that no violent outbreaks took place following the announcement.
"I'm very pleased with how the soldiers and the task force did," he said. "We were successful in ensuring everything remain peaceful."
Now that he's home, Davoren said, he is looking forward to jumping into his new duties.
"I'm very pleased to have the position," he said. "I'm very pleased when I look at the Kansas Army National Guard. It's the best-trained force Kansas has had in decades. While we have some challenges and we'll work to take care of those, I'm optimistic where we're headed and what we can do for the state of Kansas and the United States."
Copyright 2018 The Lawrence Journal-World. All rights reserved. This material may not be published, broadcast, rewritten or redistributed. We strive to uphold our values for every story published.