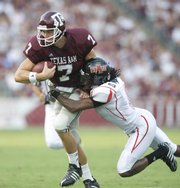 College Station, Texas - The Mike Sherman era at Texas A&M; got off to a disastrous start.
Reggie Arnold rushed for 145 yards, and Arkansas State ruined Sherman's debut as A&M;'s coach with a stunning 18-14 victory over the Aggies on Saturday night.
The Red Wolves won for the first time in 15 games against Big 12 opponents and snapped A&M;'s 20-game winning streak in home openers. The Aggies hadn't dropped a home opener since a 17-3 loss to LSU in 1987, and this one will go down as one of the most embarrassing losses in school history.
"I'm very disappointed," Sherman said. "Am I discouraged? No, I'm not discouraged. But I am disappointed. I expected to win at home."
A&M; hired Sherman last November, less than a week after Dennis Franchione resigned following the season finale against Texas. Exactly five years ago Saturday, Franchione defeated Arkansas State 26-11 in his A&M; debut.
No. 4 Oklahoma 57, Chattanooga 2
Norman, Okla. - Oklahoma hung half a hundred on Chattanooga with ease before some higher power seemed to suggest it was time to show some mercy.
Sam Bradford threw for 183 yards and two touchdowns, Chris Brown ran for three scores, and only an hourlong rainstorm could slow down the fourth-ranked Sooners.
The Sooners converted their first seven possessions into touchdowns.
No. 11 Texas 52, Florida Atlantic 10
Austin, Texas - Colt McCoy and Texas showed Florida Atlantic a few things about being tough.
On a night when Texas retired the No. 10 jersey of Vince Young, McCoy passed for three touchdowns, ran for another, and the No. 11 Longhorns coasted to a victory over FAU that got testy at times when the Owls popped McCoy for three late hits.
McCoy never wavered as Texas ran up a 28-10 halftime lead. His third touchdown pass made it 42-10 and he left early in the fourth quarter with 222 yards on 24-of-29 passing. He also did his best to imitate Young with 103 yards rushing on 12 carries.
No. 12 Texas Tech 49, Eastern Washington 24
Lubbock, Texas - Graham Harrell threw for 536 yards and two touchdowns and also ran for another score to lead Texas Tech past Eastern Washington.
The pass-happy offense of Texas Tech was in midseason form against an overmatched opponent. Harrell was 43-of-58 with an interception.
He connected with eight different receivers, but it was a quiet night for Michael Crabtree, the nation's leading receiver in 2007.
The All-American finished with 73 yards on nine catches, one a four-yard TD in the first quarter.
Eric Morris and Detron Lewis caught nine passes each for Tech. Morris got 164 yards, and Lewis had 163 yards.
It was the third time in as many seasons that Harrell has thrown for more than 500 yards in a game.
Oklahoma State 39, Washington State 13
Seattle - Kendall Hunter ran a career-best two touchdowns, Zac Robinson passed for 182 yards and ran for another score, and Oklahoma State made Washington State's new offense look inept.
The Cowboys, seventh last season nationally in total offense at 486 yards per game, gained just 367 yards with coach Mike Gundy primarily calling the plays for the first time in his four seasons as head coach. Twelve of their first 25 points came thanks to a 42-yard punt return by Dez Bryant, a safety and a 90-yard kickoff return for a touchdown by Perrish Cox.
Nebraska 47, Western Michigan 24
Lincoln, Neb. - Joe Ganz threw four touchdown passes to help Bo Pelini win his first game as Nebraska's coach.
Nebraska won its season opener for the 23rd straight year - the longest streak in the nation - but this victory marked a new beginning for a program in rebuilding mode after unraveling under Bill Callahan.
Ganz provided more than enough offense to beat the visitors from the Mid-American Conference. The fifth-year senior completed 20 of 36 passes for 345 yards. He threw two touchdown passes to Nate Swift, who had 121 yards in receptions, and one each to Mike McNeill and Marlon Lucky.
Kansas State 45, North Texas 6
Manhattan - Josh Freeman threw two of his three touchdown passes to Brandon Banks and ran for two more scores, helping Kansas State beat North Texas in another easy home opener for the Wildcats.
Kansas State overpowered North Texas on both sides of the ball, scoring on six of its first seven possessions to take a 42-0 lead, and holding the Mean Green to 205 total yards - 81 in the first half.
Freeman was quietly efficient to open his third season as Kansas State's starter, connecting with Banks on a 30-yard touchdown in the second quarter, then on a 43-yarder to put the Wildcats up, 35-0, less than a minute into the second half.
Copyright 2018 The Associated Press. All rights reserved. This material may not be published, broadcast, rewritten or redistributed. We strive to uphold our values for every story published.