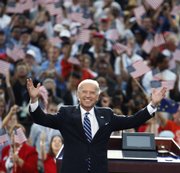 Joe Biden has been around so long - he was elected to the Senate in 1972, when Barack Obama was 11 - that just about anyone involved in politics has a Biden story. Here's mine.
It was the second week of September in 1987. Presidential contenders from both parties were converging on Chapel Hill, N.C., for one of those phony events that politicians hold and reporters love, and in those pre-Web days all the political correspondents and all the candidates could fit in one hotel. After dinner I took the elevator up to my floor and - this I remember distinctly, 21 years later - was about to follow the corridor as it made a 90-degree angle to the left when I noticed that the door to the corner room, right at the elbow of the angle, was open.
In that room sat Joseph R. Biden Jr., his feet up on the hassock, a bunch of briefing books open at the table.
He bid me to enter and, a glutton for punishment after an evening of ribs-and-chicken gluttony, I did. There the junior senator from Delaware, who was supposed to be preparing for an education summit, started to talk. And talk. And - you knew this was coming - talk. I don't remember a word he said, but, exhausted by the experience, I remember thinking: That guy sure can talk.
It was clear that Biden had left the door open in the hope that someone - anyone, even the political correspondent for The Wall Street Journal - might come in and provide him with an audience. For in more than a third of a century Biden has been looking for an audience. Now, as Obama's running mate, he has his biggest audience ever.
Not that he hasn't had an audience before. He's perhaps the most prominent political figure of Delaware since Caesar Rodney, who signed the Declaration of Independence. He has been chairman of two of the three most powerful committees in the Senate, Judiciary (which vets Supreme Court nominees) and Foreign Relations (which is as close to a State Department that the legislative branch possesses).
But somehow that has never been enough. Biden has always craved a bigger stage, and was heartbroken when his 1988 presidential campaign collapsed in scandal and ignominy. (He left the field after having been caught cribbing a speech from Neil Kinnock, the British Labor leader.)
Even so, that 1988 campaign offers important insights to Biden. It is hard to remember today, but the Biden campaign was, along with the second presidential drive of Sen. Gary Hart of Colorado, full of high hopes and high potential. It was loaded with the smartest, highest-profile campaign aides - not always a recipe for success, as Hillary Clinton discovered this spring - and with maybe the smartest playbook for the 1988 campaign.
The playbook was classic baby-boom theory - never mind that Biden was born four years before the baby boom began - and it was assembled by the irascible, unpredictable but brilliant polymath Patrick H. Caddell, who had been Jimmy Carter's pollster and who later helped shape the television series "The West Wing." This caused enormous agita among Republicans. "Biden, on paper, has more to work with in putting together a broadly based candidacy than any of the other Democrats," John Sears, the Republican analyst, told Time magazine.
And Biden was, then as now, likable and approachable. In truth, everyone likes Biden and he likes just about everybody. "He is a very helpful person, and I experienced it as a Republican," says former Gov. William F. Weld of Massachusetts, who encountered Biden during his unsuccessful effort in the Senate Foreign Relations Committee to win confirmation as ambassador to Mexico during the Clinton years.
The most remarkable example of the Biden touch may have come in the autumn of 1990, three years after the end of his presidential campaign, when Washington was preoccupied with the confirmation hearings of David H. Souter, a Republican of New Hampshire's old school, to become an associate justice of the Supreme Court.
The afternoon before the critical hearings began, Souter asked to visit the Senate Judiciary Committee chambers where he would face the lawmakers' scrutiny and questions. An aide unlocked the door to the darkened room, and when Souter stepped into a room that he presumed to be empty, he found Biden standing there.
Biden addressed Souter by his first name. He told the nervous nominee to relax, showed him the chair where he would sit (and invited him to try it out), and then made sure Souter had an opportunity to see how his voice carried over the microphone. He told Souter the first question he would ask him - and then he set him at ease with a remarkable assurance: Nobody on the committee, the loquacious Biden said to the taciturn Souter, knows more about the law than Souter did.
Biden tried for the presidency again this year. It was something of an odd experience, a victory tour by someone who was destined to lose, but he became one of the very few political figures who, in making a presidential run past his prime as a candidate, enhanced his reputation rather than diminished it. That worked for former Sen. George S. McGovern in 1984, who reminded Americans that he wasn't a loony loser who leaned left, but it did not work for former Sen. Mike Gravel of Alaska, who made no impression and made no friends in his 2008 effort.
Now Biden has another chance, and now will have perhaps his biggest audience ever. As a running mate who brings only three electoral votes with him - and Delaware wasn't much in doubt, having gone Democratic the last four elections in a row - Biden must help Obama among Catholics and among independents and undecided Republicans who are wary of the nominee's lack of experience in national-security affairs. He also must show that, for all his talk, he actually has something to say.
"He's not the blowhard people say he is," says John R. Reilly, who was a principal Biden adviser in the 1988 campaign. "A blowhard says nothing. Nine of 10 times when Joe talks he is close to being right. The 10th time you can't believe what he said, but nine out of 10 ain't bad." Those are the odds Mr. Obama must have examined when he made his choice.
Copyright 2018 The Lawrence Journal-World. All rights reserved. This material may not be published, broadcast, rewritten or redistributed. We strive to uphold our values for every story published.