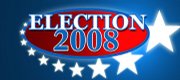 In-depth coverage of the candidates and the issues, all leading up to the Aug. 5 primary and the Nov. 4 general election.
Topeka — The results of the primary earlier this month became final and official Friday, showing that turnout was higher than expected.
The Kansas Board of Canvassers met at the secretary of state's office to certify the Aug. 5 results. The board made no changes to the results.
However, Secretary of State Ron Thornburgh did say that turnout was higher than the 319,000 voters he had predicted before the election. Officially, 371,121 Kansans, or 22.45 percent of those registered, voted in the primary. The figure was below the 2004 mark when 488,002 voters, or 30.7 percent. That year is comparable because it also was presidential year and the last time all legislative seats were on the ballot.
"I was wrong," Thornburgh said. "Even being wrong, I would have to say that's nothing to write home about."
The board is made up of Thornburgh, the state's chief election officer, and representatives for Gov. Kathleen Sebelius and Attorney General Steve Six.
Thornburgh said the low turnout was a reflection of the number of uncontested races statewide.
Rawlins County topped turnout with 60.3 percent, while Ness County was the lowest at 13.65 percent.
Copyright 2018 The Associated Press. All rights reserved. This material may not be published, broadcast, rewritten or redistributed. We strive to uphold our values for every story published.