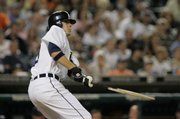 Detroit — The Detroit Tigers needed only one inning to end their four-game losing streak.
Curtis Granderson and Jeff Larish both drove in two runs and Detroit scored all of its runs in the fifth inning of a 6-3 victory over Kansas City on Friday night.
Zach Miner (8-4) allowed a run and six hits in six innings.
"He was effective tonight," Tigers manager Jim Leyland said of Miner. "When he's a starter, he's a four-pitch pitcher. ... His curveball and slider are getting better."
The eight wins are a career high for Miner, who is 5-1 with a 2.68 ERA in eight starts since joining the starting rotation on July 21.
His goal is to be in the same situation next year.
"You can pitch great but then they could trade for Nolan Ryan, Josh Beckett or Roger Clemens and all of a sudden, you're not starting any more," Miner said.
Mark Teahen homered for K.C., which has lost 11 of 12.
"Not enough production. Not enough two-out hits, that's a big part of it," Kansas City manager Trey Hillman said.
Royals starter Kyle Davies (5-6) gave up six runs - two earned - and six hits in 42â3 innings.
"Even in the fifth (inning), I threw some good pitches," Davies said. "A broken bat falls, jam 'em with a pitch, it falls in, two seeing-eye singles."
Teahen led off the second with his 11th homer. Aviles singled in a run for the Royals in the seventh and Alberto Callaspo's ground out drove in a run in the ninth.
Copyright 2018 The Associated Press. All rights reserved. This material may not be published, broadcast, rewritten or redistributed. We strive to uphold our values for every story published.