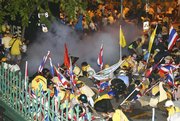 Bangkok, Thailand — Thai police fired tear gas at thousands of right-wing protesters besieging their headquarters Friday, while demonstrators outside the capital disrupted air and rail service in a growing campaign to unseat the prime minister.
Saying that Western-style democracy has allowed corruption to flourish, the protesters have said they hope to repeat their success of two years ago, when they helped topple former Prime Minister Thaksin Shinawatra.
Prime Minister Samak Sundaravej insisted he won't step down, and may declare a state of emergency, suspending some civil liberties, if rioting during the four-day old protest worsens. The country's influential army commander said the military will steer clear of politics and not stage a coup.
The People's Alliance for Democracy protesters settled in for a fourth night occupying the grounds housing his offices. They have fought police - under orders to show restraint - to a standoff.
The alliance accuses Samak's government of serving as a proxy for Thaksin, who was deposed in a bloodless coup and banned from public office until 2012. Thaksin, who fled to self-imposed exile in Britain, faces an array of corruption charges.
The protesting alliance and its sympathizers - monarchists, the military and the urban elite - complain that Western-style democracy gives too much weight to Thailand's rural majority, whom they consider unsophisticated and susceptible to vote buying.
Copyright 2018 The Associated Press. All rights reserved. This material may not be published, broadcast, rewritten or redistributed. We strive to uphold our values for every story published.