Photo Gallery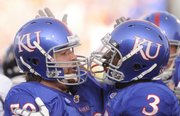 KU vs. FIU
-->
-->
On the street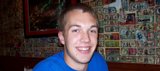 I think they have a better team than last year, so they should do as well or better. They have a tougher schedule though, so it should be an interesting season.
2:16 a.m.
Finally, before I call it a night, here's our Spodcasters Postgame recorded from the press box at Memorial Stadium.
1:38 a.m. The Keegan Ratings are posted, with freshman Daymond Patterson at the top of the list.
11:56 p.m.
Another interview, this one with Clint Bowen.
11:47 p.m. Here's some audio from Todd Reesing. Also, to those of you looking toward Louisiana Tech, staffers Matt Tait and Eric Sorrentino's Going Deep podcast is already up and ready for your attention.
11:30 p.m.
The Mark Mangino interview has been posted. More to come later.
Final, KU wins 40-10 Quigley gets stopped at the 1-yard line with 10 seconds left. Bettors everywhere scream in frustration at their radios. Stick around, as we'll have quotes and notes after the post-game press conference.
2:25 left in fourth quarter, KU leads 40-10
Angus Quigley has looked good with a couple of tough runs up the middle. He's vying, like Johnathan Wilson, to not be a forgotten one on KU's talented offense.
3:49 left in fourth quarter, KU leads 40-10
Reesing still in. Not sure why. Maybe covering the spread is important.
6:25 left in fourth quarter, KU leads 40-10
Reesing throws an ugly interception after he fails to see the safety Jeremiah Weatherspoon on a deep route. It'll just be a footnote because of the lopsided score. Strozier comes up with his second interception a few seconds later, leaping high in the end zone to come down with the athletic catch.
11:11 left in fourth quarter, KU leads 40-10
KU chasing the 36-point spread now. Looks like it will be close. FIU with the ball at its own 37.
End of third quarter, KU leads 40-10
KU forces a turnover on downs. The key play came from Chris Harris, who batted a ball away in the end zone to save a touchdown. To answer esque's question in the comments section: KU's offensive line hasn't been as dominant as I would have guessed against FIU. There hasn't been much room to run for Crawford or Sharp, and Reesing has been pressured quite a bit on deep drops. As of now, I'd say the offensive line (along with kickoff and punt return coverage) would be KU's biggest concerns heading into next week. I need post-game questions from you guys for Briscoe and Patterson. Post them below.
4:49 left in third quarter, KU leads 40-10
Tom Keegan is a genius. After Keegan predicted three receiving touchdowns for Dezmon Briscoe against FIU on The Drive, Briscoe made the prediction a reality after making a leaping 3-yard TD catch in the back of the end zone. Fowler kick good. Jayhawks on cruise control.
7:34 left in third quarter, KU leads 33-10
The attendance was just announced at 52,112 - a new Memorial Stadium record. The stadium filled in nicely after the start. Guess my earlier prediction was a little off. Phillip Strozier just added an interception on a bad pass by McCall. KU threatening to score again at the FIU 19.
9:07 left in third quarter, KU leads 33-10
KU's linebackers combined for the first takeaway of the season to start off the third quarter. James Holt forced a fumble with a hit on receiver Junior Mertile, and Joe Mortensen came up with the recovery. Johnathan Wilson - who promised to me earlier this week that KU fans would know his name quickly - made a nice catch, reaching high in the air to pull down a 15-yard reception to help save the ensuing drive. Rojas contributed his second field goal - this one a 37-yarder - and took another step toward becoming KU's starting kicker.
KU HALFTIME LEADERS
Passing: Todd Reesing 22-of-29, 163 yards, 2 TDs
Russing: Jocques Crawford 8 carries, 36 yards
Receiving: Kerry Meier 7 catches, 45 yards
Dezmon Briscoe 7 catches, 44 yards, 2 TDs
FIU HALFTIME LEADERS
Passing: Paul McCall 6-of-12, 39 yards
Rushing: A'mod Ned 6 rushes, 22 yards
Receiving: Eric Kirchenberg 2 catches, 21 yards
FIU had just 64 yards on 27 first-half plays with five punts. All in all, a great debut so far for new defensive coordinator Clint Bowen.
Make sure to vote on our new poll on the left side of the page. Also, start thinking about post-game questions for Dezmon Briscoe and Daymond Patterson.
Halftime, KU leads 30-10
FIU added a field goal in the final minute, taking advantage of a soft KU defense. The Panthers went 38 yards in 23 seconds, and Dustin Rivest knocked through a 43-yard field goal with 3 seconds left. All in all, the Jayhawks have to be happy with their first-half effort.
:32 left in second quarter, KU leads 30-7
Let's call it the West Coast spread offense. Reesing has been picking apart the FIU defense, little by little. On this drive, Reesing was 8-of-10 for 55 yards. That included a 4-yard TD toss to Briscoe, his second score of the day. After a bad snap, Fowler missed the PAT wide right. The KU special teams have had an interesting day to say the least.
2:17 left in second quarter, KU leads 24-7
What else can Patterson do? He just saved a KU drive with a nice leaping catch for 14 yards. Quick note: Reesing 16-of-22 for 128 yards. Not many long passes, but No. 5 has been extremely efficient.
2:59 left in second quarter, KU leads 24-7
Just when you were about to give the KU special teams the game ball, the unit let the Jayhawks down right before the end of the half. Following a Rojas punt, FIU's T.Y. Hilton bolted down the left sideline with a 74-yard return for touchdown. If KU was going to give up a big play, this looks like an OK time to do it.
7:41 left in second quarter, KU leads 24-0
KU's defense is really swarming now. FIU changed quarterbacks to Wayne Younger, but the result was another three-and-out. Freshman Daymond Patterson followed with an electrifying return, taking the punt back 75 yards for a touchdown down the right sideline. Patterson, as Mangino mentioned earlier, is really fast. He also showed some acrobatics, leaping over a defender at the 25-yard-line. This could be the start of a rookie campaign for Patterson. And, no, he didn't dive across the goal line.
9:29 left in second quarter, KU leads 17-0
True freshman Daymond Patterson showed some flash, returning an FIU punt 30 yards down the left sideline to put KU in good field position. Alonso Rojas later showed his value as a long-range kicker, nailing a 47-yard attempt with plenty of leg to spare. From that kick, one can see why Mangino has had such high praise for him.
14:56 left in 2nd Quarter, KU leads 14-0.
Todd Reesing completed an 11-play, 56-yard drive with an easy three-yard touchdown pass over the middle to Dezmon Briscoe to put the Jayhawks up 14-0. The KU offense really seems to be rolling now.
End of 1st Quarter, KU leads 7-0.
After an FIU three-and-out, KU is on the brink of scoring at FIU's three yard line as the first quarter comes to a close. Also, KU wide receiver Dexton Fields was injured on the Jayhawk drive and headed to the Anderson complex.
5:09 left in 1st Quarter, KU leads 7-0.
Using an array of short passes, KU made it look easy during its first scoring drive of the year. Reesing found Kerry Meier four times for a combined 32 yards, and Jocques Crawford showed his power, driving his way into the end zone through a defender for the seven-yard score.
7:40 left in first quarter, game tied 0-0
KU's defense held FIU scoreless, but not without some help from the Panthers. FIU quarterback Paul McCall overthrew a couple of his receivers, and wideout Jeremy Dickens dropped a pass inside the 10. Jake Laptad came up with a big sack on a 4th-and-10 to give the Jayhawks possession at their own 37.
9:42 left in first quarter, game tied 0-0
KU's defense forced a quick three-and-out, but the Jayhawks went backwards on a drive that started at their own 26. Todd Reesing had heavy pressure on his final two throws, as the pocket collapsed around him. Following an Alonso Rojas punt, FIU will take over at the KU 46.
12:30 left in first quarter, game tied 0-0
KU's opening drive started out promising before Dezmon Briscoe fumbled a pass over the middle that FIU recovered at its own 39-yard line. Jocques Crawford dazzled the crowd with a 15-yard run on his first carry. The Jayhawks' offensive line looks to be dominating the line of scrimmage.
6:04 p.m.
About ready for kickoff. The new pregame video had the Orange Bowl trophy smash the FIU helmet.
I'm sure fans will love it.
KU wins the toss and will receive. Here we go.
5:58 p.m.
Student section looks strong, going all the way to the top of the bleachers.
Still some open space in the southwest and southeast bleachers, so I would guess it won't quite be a sellout.
5:47 p.m.
Speaking of the Chiefs, Carl Peterson just passed behind me in the press box.
Was it something I said?
5:46 p.m.
The question was asked during this week's Drive.
Will KU and K-State combine for 100 points this week?
Tom Keegan said yes. I say no. For me, K-State's offense is too much of a question mark.
What do you guys think?
5:40 p.m.
All three starting linebackers (Joe Mortensen, James Holt, Mike Rivera) are running drills.
There had been a few rumors floating around about injuries to Holt and Rivera. Looks like both of them will start.
5:25 p.m.
The teams are warming up and blue-shirted fans are starting to filter into Memorial Stadium.
A couple of observations. The new "Touchdown Club Seating" in the south end zone doesn't look as out of place as I had thought. The luxury seats look kind of snappy in the KU blue, actually.
After the game, I'll be interested to hear what KU fans think about them.
During pre-game, I noticed Grady Fowler was practicing a lot from the 10-yard line - the same spot where point-afters are taken.
Don't know how much to take from this. After talking to KU coach Mark Mangino this week, I think it's pretty evident that some sort of platoon will occur with Fowler taking shorter kicks and Alonso Rojas lining up for the longer ones.
Just how long will Mangino let Fowler kick? Hopefully we find out something more in a few hours.
4:40 p.m.
Spodcasters Live has just been posted. Tom and I had a great time with the KUsports.com posters there. Thanks again to 7Decadehawk and Fabio for hosting us.
12:50 p.m.
I'm off to the KUsports.com tailgate party. Hope to see lots of you there.
The Spodcasters will be posted here before the game, so check back for that.
12:30 p.m.
It's official. The Kansas men's basketball team won its first exhibition game in Canada over McGill University, 72-67.
Great games for Tyshawn Taylor and Cole Aldrich. Taylor led the Jayhawks with 18 points, while Aldrich posted a double-double with 10 points and 18 rebounds.
There was some talk around the office earlier in the week that perhaps the KU football team might outscore the KU basketball team in the two teams' respective first games.
Doesn't look like it will happen (though, as we learned with Nebraska last year, 70-plus points is not an impossible feat for KU football).
10:10 a.m.
Welcome to the first-ever Newell Post Live: Gameday Edition. Kickoff is still a few hours away, but I wanted to get this party started a little early.
First off, if you haven't heard already, we will be doing a Spodcasters: Live at 2 p.m. Saturday at 1025 Alabama. A map of the location can be found here. It should be a good time, as there will be food, balloons and a KUsports.com T-shirt giveaway. Tom Keegan and I will be there, along with KUsports.com online posters that you often talk to but probably have never met. Stop by if you get the chance.
Also, here's the link to our Gameday: Cram Session video if you haven't seen it yet.
This will be a crazy day, as I'll also be updating the KU men's basketball team's progress during their exhibition games in Canada. Check back to the front page of KUsports.com and also to this blog for updates.
As far as coverage goes, we're going to change things up a little bit this year. Here are some of the features we have on tap as far as Gameday is concerned.
¢ Make things more interactive. Our goal on here won't just be to give you the score, it also will be to give you some entertainment as we go along. You'll already see there's a poll you can vote on, and we'll put up new ones during the game. I'll also be asking for readers' opinions, and you can respond in the comments section at the bottom of the page.
¢ Quicker, more analysis-based game updates This should give you guys more of a feel of how KU is playing instead of giving the standard play-by-play. This also will shorten the entries, making it easier to get to the comments at the bottom (hey, it's fun to read those).
¢ After the third quarter, I'll be asking for questions that you guys have for the players. Post your questions in the readers' comments. The best ones will be asked after the game, and the responses will be posted in this blog. Again, another way for you to contribute to this coverage.
Have suggestions/thoughts/ideas regarding the new coverage? Feel free to e-mail me.
Let's get the discussion started, though.
I've always thought the first play that a team runs on offense each season could tell you quite a bit about that team.
My dad and I used to always try to predict what the Kansas City Chiefs' first play would be each year. Ninety percent of the time we were right: a run up the middle by (insert bad running back like Greg Hill, Harvey Williams or Bam Morris here).
That play seemed to always set the tone for the season. Each year K.C. ran up the middle its first play, we already started preparing ourselves for another year of three-downs-and-out Marty-ball.
So what will KU's first offensive play be this year?
Here's my guess: A wide-receiver screen to Dexton Fields for a nine-yard gain.
Let's see what you guys can come up with.
Copyright 2018 The Lawrence Journal-World. All rights reserved. This material may not be published, broadcast, rewritten or redistributed. We strive to uphold our values for every story published.