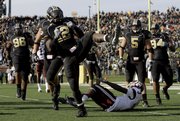 St. Louis — Coming off a 12-win season and ranked higher than ever before to start the season, No. 6 Missouri is counting on an immediate test from Illinois.
The 20th-ranked Fighting Illini feel likewise.
"I think the positive is we're going to know exactly where we are," Illinois coach Ron Zook said. "When you play a team the caliber of Missouri, it's going to give you an opportunity to know exactly where your program is and the things you have to work on."
Missouri's 40-34 win last year in a border rivalry fast gaining steam ended up being just as much of a springboard for the losing team.
Though the Tigers won their first Big 12 North title, made it to No. 1 for a week and thrashed Arkansas in its first New Years' Day bowl game since 1970, that was more of a logical progression in coach Gary Pinkel's seventh season.
Illinois, on the other hand, was a surprise Rose Bowl participant with a second-place finish in the Big Ten and an upset of Ohio State after going 2-19 the first two seasons under coach Ron Zook.
This game used to be the poor stepchild of the schools' highly popular holiday-season basketball border rivalry, but now it's a hot ticket, too, and one of the top opening week matchups. It's a sellout, too, for the first time in four games this decade in the Edward Jones Dome.
Against that backdrop, and with the queasy memory of a 24-point third-quarter cushion that all but evaporated last year, Missouri knows there will be no easing into this season.
Illinois, which finished 9-4 last year has six starters back on each side of the ball, including quarterback Juice Williams.
Illinois has led the Big Ten in rushing the last two years.
Missouri had to replace only one starter on defense, which should lessen the burden on its 40-points-per-game offense. Linebacker Sean Weatherspoon said some Missouri defenders were a bit wide-eyed entering last year's opener, but this will be the Tigers' fourth straight game against a Top 25 opponent.
"I don't think it'll get to us this time around," Weatherspoon said. "We've got a lot of guys who have already played in a lot of big games."
If not, the Tigers' offense shouldn't miss a beat. Last season, they only missed the 30-point mark once, in the Big 12 championship game.
Jeremy Maclin set an NCAA freshman record for all-purpose yards and his total of 2,776 yards was fifth-most in history. Chase Daniel had 33 touchdown passes last year, finishing fourth in the Heisman balloting, and had eight 300-yard games.
Copyright 2018 The Associated Press. All rights reserved. This material may not be published, broadcast, rewritten or redistributed. We strive to uphold our values for every story published.