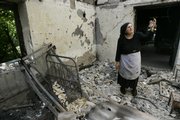 Tbilisi, Georgia — Georgia severed diplomatic ties with Moscow on Friday to protest the presence of Russian troops on its territory. Russia said the move would only make things worse.
With European Union leaders set to discuss on Monday in Brussels how to deal with an increasingly assertive Russia, Prime Minister Vladimir Putin angrily warned Europe not to do America's bidding and said Moscow does not fear Western sanctions.
Russia has faced isolation over its offensive in Georgia and stands alone in its recognition of breakaway regions South Ossetia and Abkhazia. The U.S. and Europe have closed ranks in condemning Russia's actions but are struggling to find an effective response.
EU leaders are not expected to impose sanctions on Russia at their summit but may name a special envoy to Georgia to ensure that a cease-fire is observed, French and Belgian officials said.
Georgia's diplomats in Russia will leave Moscow today, the Foreign Ministry said. Both nations' consulates, however, will remain open - important for the many Georgian citizens living in Russia. Under the 1963 Vienna Convention on Consular Relations, breaking off diplomatic ties does not automatically lead to a cut in consular relations.
The diplomatic break will require Georgia and Russia to negotiate through third countries if they negotiate at all - a sticky situation because Russia sees Western nations as biased in Georgia's favor. Georgia, which had pushed for a greater role for international organizations, could see it as an advantage.
"We found ourselves in an awkward situation when a country militarily invading and occupying our country, then recognizing part of its territories, is trying to create a sense of normalcy" by maintaining diplomatic relations, Foreign Minister Eka Tkeshelashvili said in Sweden.
Copyright 2018 The Associated Press. All rights reserved. This material may not be published, broadcast, rewritten or redistributed. We strive to uphold our values for every story published.