Photo Gallery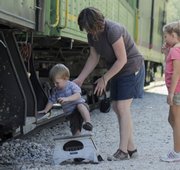 Midland Railway's Railfest
Past Event
When: Saturday, August 30, 2008, 11 a.m.
Where: Santa Fe Depot, 1515 W. High St., Baldwin City
Cost: $5 - $10
-->
-->
Baldwin City — All aboard to ride into history.
Aaron Harrel, 3, and his big brother, Evan, 5, stood staring at the old-time railroad cars as they prepared to hop onto the vintage coaches and ride to the former town site of Norwood, near the Douglas County-Franklin County line.
The brothers from Lee's Summit, Mo., are big fans of Thomas the Tank Engine, but this would be a new railroad experience for them.
"Obviously they love any kind of thing they can do," said their dad, Shawn Harrel, who brought them to the Midland Railway Railfest 2008 that began Saturday in Baldwin City.
The main attraction is the train rides throughout the Labor Day weekend. The old-style train will leave at 11 a.m. and 2 p.m. Sunday and Monday from the Midland Depot in western Baldwin City.
The rides take about an hour as the train heads to Norwood and returns to Baldwin City.
Amid the roar of the engine and the soundings of the horn, Aaron asked whether he could put his earplugs in.
The sounds take several railroad enthusiasts back to an earlier and important time, said Ernie Griffin, of Independence, Mo., and general manager of Midland Railway.
"It's part of history. Towns and cities like Chicago and even San Francisco were basically built by and enlarged by the railroad," he said.
Also on the train, retired postal mail clerks talk about what the train meant to mail delivery throughout the country. Railroad memorabilia is also available.
"People can actually come in and see how they used to do it," Griffin said.
The Singing Conductors, Dee and Roger Clark, also performed at the depot on Saturday. About 600 to 700 people typically participate in the annual railfest, Griffin said.
Tickets are available at the depot. The cost for the trip is $10 for adults; $5 for children ages 2 to 12; and no charge for children younger than 2.
The depot is at 1515 High St.
As Shawn Harrel prepared to board with his sons on the Saturday morning ride, he said he expected the rural Kansas scenery to be beautiful and complement the old-style railroad cars.
"They like seeing the old things," he said of his sons.
Copyright 2018 The Lawrence Journal-World. All rights reserved. This material may not be published, broadcast, rewritten or redistributed. We strive to uphold our values for every story published.