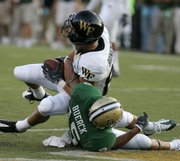 Waco, Texas — Riley Skinner goes through stretches where he looks as if he just can't miss.
A pass tucked under a cornerback, another dropped over a linebacker, followed by a mid-range pass down the middle. All of it keeps No. 23 Wake Forest on the move.
Skinner was his uncannily accurate self again Thursday night, tossing three touchdown passes in a 41-13 season-opening victory over Baylor as the Demon Deacons played up to their first preseason ranking in school history.
"We were efficient," Skinner said.
As usual.
Skinner's 72 percent completion rate led the nation last season and he coolly shredded the Bears, going 27-of-36 for 220 yards with a pair of touchdown passes to Chip Brinkman and another to Ben Wooster. He also earned his 19th career victory, a school record for a quarterback.
"The history here, that's not too impressive of a record," Skinner said. "Hopefully we can add on to that a little bit more."
Baylor, trying to shake off 12 years of losing, hired coach Art Briles away from Houston to replace Guy Morriss. But Briles became just another victim of dubious Bears history, becoming the sixth of the last seven Baylor coaches to lose his first game.
His Baylor debut seemed to generate more of a wait-and-see attitude than a buzz.
Only about 30,000 fans came to 50,000-seat Floyd Casey Stadium to watch it and many started leaving when Wake Forest took a 34-6 lead late in the third quarter.
"Certainly not the way we drew it up. The thing that's really painful for me and the staff (is) you want to give people a reason to believe," Briles said. "I feel like we let a lot of people down."
Copyright 2018 The Associated Press. All rights reserved. This material may not be published, broadcast, rewritten or redistributed. We strive to uphold our values for every story published.