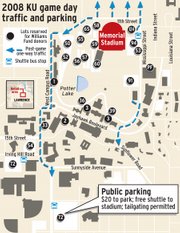 When KU wins, local charities win.
That's the game plan for folks at Cans for the Community, an organization whose members line up in parking lots, streets and yards near Kansas University's Memorial Stadium in search of aluminum cans for recycling.
Volunteers collected about 6,000 cans per game last season, overflowing the bed of a pickup and taking up space in the back of a board member's car. The effort generated a little more than $500 for the season, money that added to donations for area charities.
Beginning this Saturday, the Cans for Community team is looking to score even more metal.
"Last year we were can-crazy," said Linda Klinker, chairwoman of Cans for the Community, which has sent $31,150 to charities since early 2005. "This year we're bringing a trailer. We're not messing around this year."
Like last season, volunteers will be distributing special Cans for the Community bags to tailgaters in the hours leading up to the 6 p.m. kickoff. Volunteers then will return at kickoff to collect the bags, which organizers hope to find filled with cans.
New this season: Six blue plastic bins will be posted near entrances to the stadium, where fans can drop cans on their way into the game.
Organizers hope to pick up 200 pounds of cans at each game this year, as KU already has sold a record number of season tickets and a sellout crowd is expected to see the Jayhawks play Florida International.
"There are so many (potential) cans out there, you wouldn't believe," said Klinker, the self-described "Can Lady." "A winning season is a good season for recycling cans."
Lawrence Community Theatre is lined up to receive the next $500 grant from Cans for the Community. It will be the 59th such grant given by the organization. Previous recipients include Douglas County Special Olympics, Health Care Access, Jubilee Cafe and the Boys and Girls Club.
For more information about the effort, visit cansforthecommunity.org or call 331-6599.
¢ Free shuttles: KU and the city of Lawrence aren't the only organizations offering free shuttle buses to take fans to and from Memorial Stadium on Saturday (KU will charge $20 for fans to park in lot 90, across Naismith Drive from Allen Fieldhouse, while the city will offer free parking in its two downtown parking garages).
The 23rd Street Brewery is offering a limited number of free bus rides to and from the stadium from the brewery, 3512 Clinton Parkway. Fans are invited to tailgate in the brewery's lot, adjacent to Lawrence Bank; grills and coolers are allowed.
Shuttle passes from the brewery are free and distributed on a first-come, first-served basis. Fore more information, contact the brewery at 856-2337.
Copyright 2018 The Lawrence Journal-World. All rights reserved. This material may not be published, broadcast, rewritten or redistributed. We strive to uphold our values for every story published.