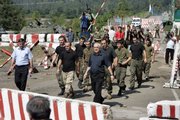 Moscow — Russian Prime Minister Vladimir Putin accused the United States on Thursday of instigating the fighting in Georgia and said he suspects a connection to the U.S. presidential campaign - a contention the White House dismissed as "patently false."
In a decision he said was unrelated to unraveling Russia-U.S. ties, Putin also ordered that 19 American poultry producers be barred from selling their products to Russia. He said the unnamed companies ignored demands that they correct alleged deficiencies.
Putin, the former president and architect of an assertive foreign policy that has stoked East-West tension, suggested in an interview with CNN that there was an American presence amid the combat with a potential domestic U.S. political motive.
"We have serious grounds to think that there were U.S. citizens right in the combat zone" during Russia's war with the U.S.-allied ex-Soviet republic, he said the interview broadcast on state-run Russian television. "And if that's so, if that is confirmed, it's very bad. It's very dangerous."
Putin's acid attack on the United States came as Moscow's bid to redraw Georgia's borders hit an obstacle among its Asian allies who refused to recognize the two Russian-backed breakaway regions of Georgia. France, meanwhile, said the European Union is considering sanctions against Russia for its conduct in the Caucasus.
Putin said that Russia had hoped the U.S. would restrain Georgia, which Moscow accuses of starting the war by attacking South Ossetia on Aug. 7. Instead, he suggested the U.S. encouraged the nation's leadership to try to rein in the separatist region by force.
"The American side in fact armed and trained the Georgian army," Putin said. "Why hold years of difficult talks and seek complex compromise solutions in interethnic conflicts? It's easier to arm one side and push it into the murder of the other side, and it's over.
"It seems like an easy solution. In reality it turns out that it's not always so," he said.
The United States has close ties with the Georgian government and has trained Georgian units. The Pentagon has said that the U.S. had about 130 trainers in Georgia when the fighting erupted earlier this month, including a few dozen civilians who were all working to prepare the Georgian forces for deployment to Iraq.
But Russian officials have made statements aimed to convey the idea that Americans may have directly supported Georgia's offensive.
In an interview with France 24 to be aired today, Georgian President Mikhail Saakashvili said there were no American "commanders or even advisers" in the conflict zone. He said the conflict had nothing to do with the U.S., but "the aggression of the Russians."
Copyright 2018 The Associated Press. All rights reserved. This material may not be published, broadcast, rewritten or redistributed. We strive to uphold our values for every story published.