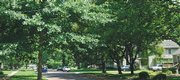 Welcome to our ongoing project, LJWorld.com/Green. Here you can find tips on how to make your life environmentally friendly and read stories about what others in the community are doing to live a more green lifestyle. Eat local, conserve resources, be green.
Photo Gallery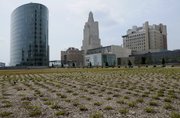 Green KC
Kansas City is known for its barbecue, jazz, fountains and Royals baseball. It's increasingly becoming known for its efforts to be green.
The National Geographic Green Guide ranked it 25th out of all 251 metropolitan areas with populations of at least 100,000, based on data from the Environmental Protection Agency and the U.S. Green Building Council.
SustainLane, an Internet company focusing on green issues, named Kansas City's water quality the best among the 50 largest U.S. cities. The city garnered the third spot for using alternative fuels in city vehicles. All city diesel vehicles use biodiesel and about 225 operate on compressed natural gas, which is much cleaner and cheaper than gasoline.
In July, the city became the first to adopt a climate protection plan in the four-state region of Missouri, Kansas, Nebraska and Iowa. Its goal is to reduce greenhouse gas emissions 30 percent by 2020, and it is well on its way.
"We are going through a green revitalization," said Dennis Murphey, chief environmental officer for Kansas City, Mo. "We are taking a look at things in whole new different ways."
Lawrence leaders are looking to the city, just 40 miles to the east, as an example of what is possible. Lawrence formed a 13-member climate task force in March and is modeling its climate protection plan after the one adopted in KCMO. The task force plans to submit its plan to the City Commission this spring.
"Kansas City is just up the road and they've got a lot of great initiatives and concepts out there that I think we can emulate and put forth in our community," said Mayor Mike Dever, who is chairman of the climate protection task force.
Growing green
During a recent day trip to the region, I received a firsthand look at some of the city's green efforts.
Among them was a 47,000-square-foot community center being built to meet the U.S. Green Building Council's Leadership in Energy and Design (LEED) standards. That means a third party will be evaluating it based on categories such as recycling, water efficiency, energy efficiency, materials used from within 500 miles, landscaping and air quality.
The new $150 million Bartle Hall ballroom garnered a LEED distinction by using more than 20 percent recycled content, reducing water use by 30 percent and keeping 75 percent of the construction waste out of landfills. The design also incorporated daylight.
These buildings come on the heels of an ordinance adopted in Kansas City that says new buildings and renovation projects must meet LEED standards.
"There are some expenses to using the LEED process, but I think it pays itself back at the end," Eric Bosch, city architect manager, said.
The city already is saving $2 million annually in energy costs by simply changing pumps, motors and lights to energy-saving ones. It also has a system where workers can turn on and off individual lights in city buildings at the touch of a computer mouse. They also can control air conditioning and heating.
"The city is trying to figure out ways that we can incorporate environmental concerns into all aspects of our operations," Murphey said.
One of the biggest issues facing KCMO and other major urban areas is how to prevent sewer overflow from occurring during a stormwater event. The city estimates the problem could cost $2 billion to fix.
"We want to figure out how we can incorporate different ways of fixing that problem rather than just putting bigger pipes below the ground and building more waste water treatment plants," Murphey said.
One solution is planting rain gardens, which are sunken areas planted with native perennials such as buffalo grass, swamp milkweed and New England aster. The gardens filter pollutants from stormwater runoff, lessen flooding and cut down on mowing. The city's goal is to have 10,000 of them spread out on residential and public property.
Another solution: Green roofs. A number of structures are topped with a layer of soil and vegetation that helps capture the stormwater and reduces energy consumption in buildings. Boulevard Brewing Co., Nelson-Atkins Museum of Art, the downtown public library and a downtown parking garage have such roofs.
The city continues to expand its recycling offerings. In 2006, its residential curbside recycling program collected 19,000 tons of materials, an 18 percent increase from the previous year. The city also added recycling bins in several business districts. It recently initiated a program to recycle food waste at the City Market. The waste is now used to create premium market-ready compost.
The Household Hazardous Waste Center, which was built in 1996, takes up to 1 million pounds of materials annually. It also runs a swap shop where good paints and other products are offered to the public for free.
In 2005, the city began recycling at Kansas City International Airport. During the first year, it kept 9 tons of waste from entering landfills. Last year, the total grew to 191 tons.
"We are doing just about everything we can possibly think of and even more so," said Mark VanLoh, director of aviation.
The airport's 35 buses run on natural compressed gas. The airport also captures every drop of chemical used for de-icing on the approximately 300 planes that come and go each day.
"We put it in this 2 million gallon brown tank and before it is sent anywhere, we test it and make sure that fluid is safe," VanLoh said. "If it's not safe, we ship it off in trucks to places where they can treat it. If it is deemed safe, it is sent to our holding area."
That holding area is what many passengers think is a lake near the entrance of the airport, but it really is a large rain garden.
Challenges ahead
While KCMO is making strides in many areas, Murphey said transportation is a challenge. Many of its 500,000 residents rely on gas-guzzling vehicles to get them around the 320-square-mile city. To put that in perspective, Portland, Ore. - which is considered the greenest U.S. city - has 600,000 residents and is one-third the size at 110 square miles.
Kansas City environmental leaders are encouraging people to use buses, to carpool, and to walk or bike when they can. They have their fingers crossed that voters will approve a light rail system in November.
"We've got a lot of challenges facing us and we are finding a lot of momentum building - not just in Kansas City, but throughout the metro area," Murphey said. "There are a lot of strategies that we are looking to implement."
Murphey, who has done environmental work for 32 years, said there's no silver bullet to reducing greenhouse emissions.
"The thing that you need to do to make any climate protection plan at a government level successful is to engage all the partners you can: the business community, the nonprofits, individuals," he said. "What most cities have found when they are doing climate protection planning is that city government emissions only count for 3 to 4 percent of the total greenhouse emissions in your community. So if you are going to make a real impact, you need to work with people throughout your community."
Copyright 2018 The Lawrence Journal-World. All rights reserved. This material may not be published, broadcast, rewritten or redistributed. We strive to uphold our values for every story published.