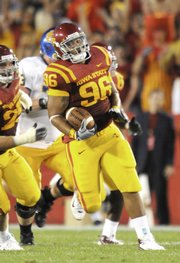 Ames, Iowa — Turnovers weren't exactly Iowa State's strong suit last year. The Cyclones turned that around in their season's opener, converting nearly every South Dakota State miscue into points.
Austen Arnaud threw a touchdown pass and ran for a score in his first career start, and Iowa State returned five interceptions for a school-record 202 yards in a 44-17 rout of South Dakota State Thursday night.
Freshmen Sedrick Johnson and Darius Darks each caught touchdown passes for Iowa State (1-0), which forced the undersized Jackrabbits into six turnovers and picked up their most lopsided win under second-year coach Gene Chizik.
"I was really proud of our defensive play," Chizik said. "Whether it was something that happened on special teams or a turnover, they did a great job."
Iowa State, which led, 20-0, at halftime, put the game away late in the third quarter. Arnaud threw his first career touchdown pass, an 18-yarder to Darks, to make it 27-3. Three plays later, Derec Schmidgall took an interception 37 yards to push Iowa State's lead to 34-3 with 2:14 left in the third quarter.
South Dakota State (0-1) tacked on a pair of meaningless fourth-quarter touchdowns; a 3-yard TD run by Kyle Minett and a 76-yard touchdown run by JaRon Harris.
Ryan Berry was 23-of-37 passing for 170 yards and five interceptions and Minett had 111 yards rushing for South Dakota State, in its first year as a full-fledged FCS program and facing its first major college opponent since 1984.
It didn't go nearly as well as the Jackrabbits hoped.
South Dakota State turned it over five times in the first half, and Iowa State used three long interception returns to build a 20-point lead.
"We are disappointed in what we failed to do tonight," South Dakota State coach John Stiegelmeier said. "We knew it was going to be our toughest challenge and we made it tougher than we were able to overcome."
The Cyclones drove 69 yards on the game's opening possession and went ahead, 7-0, on a 1-yard TD plunge by Arnaud.
"Once the offense got rolling we were pretty tough to stop," Arnaud said. "We were running the ball pretty well, throwing it pretty well."
Those waiting for a definitive answer about Iowa State's quarterback situation will have to wait a bit longer.
Arnaud, who beat out Bates in a heated competition during fall camp, was 8-of-11 passing for 98 yards. Bates was 5-of-8 passing for 61 yards and a touchdown, and he ran for 55 yards on nine carries.
The Cyclones ran the ball 42 times for 229 yards and threw just 19 passes, so there was little chance for either Arnaud or Bates to stand out.
Chizik said he'll make a decision about who will start next Saturday's home game against Kent State after reviewing the game film.
Copyright 2018 The Associated Press. All rights reserved. This material may not be published, broadcast, rewritten or redistributed. We strive to uphold our values for every story published.