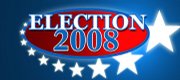 In-depth coverage of the candidates and the issues, all leading up to the Aug. 5 primary and the Nov. 4 general election.
Baldwin City — David Brown, the Republican District 2 Douglas County Commission candidate, and John Coen, the Republican District 10 Kansas House of Representatives candidate, will host a meet and greet event Sept. 7. The candidates will be available from 6 p.m. to 8:30 p.m. at the Vinland Fairgrounds, 3 miles north of Baldwin City.
District 2 County Commission boundaries encompass Baldwin City, Eudora, the eastern, southeastern and northern portions of Lawrence, and the Eudora, Grant, Palmyra and eastern part of Wakarusa townships. House District 10 includes the southern edge of Lawrence, Palmyra and Wakarusa townships and Baldwin City in Douglas County. It goes south to the Marais des Cygnes River in Ottawa and includes Ottawa, Franklin and Hayes townships as well as the city of Wellsville in Franklin County.
Brown, a farmer and former Douglas County deputy, and his wife, Twilla, live in the rural Baldwin City area. Coen, a farmer, lives with his wife, Cherry, in northern Franklin County.
John Coen faces Tony Brown, and David Brown faces Nancy Thellman in the Nov. 4 election.
Copyright 2018 The Lawrence Journal-World. All rights reserved. This material may not be published, broadcast, rewritten or redistributed. We strive to uphold our values for every story published.