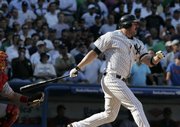 Yankees 3, Red Sox 2
New York - Jason Giambi saved New York, coming off the bench to hit a tying homer in the seventh inning and a game-winning single in the ninth for a victory over Boston. Desperate to get back in the playoff race, New York salvaged the finale of a three-game series and won Boston's final regular-season game at Yankee Stadium.
Mariano Rivera (5-5) entered a tie game in the eighth and pitched 11â3 hitless innings for the win.
Angels 7, Rangers 5
Anaheim, Calif. - Pinch-hitter Juan Rivera doubled off the wall in right-center to drive in three runs in a five-run eighth inning.
Rays 3, Blue Jays 2
St. Petersburg, Fla. - Edwin Jackson took a shutout into the eighth inning, Cliff Floyd, and Willy Aybar each homered, and Tampa Bay beat Toronto to guarantee the Rays will finish no worse than .500 for the first time in franchise history.
Tampa Bay, 81-51 and an AL-best 49-19 at home, took two of three from Toronto and are 11-0-1 in series play since the All-Star break. The Rays extended their lead in the AL East over Boston to 41â2 games. The Red Sox lost, 3-2, to the New York Yankees.
Athletics 3, Twins 2
Oakland, Calif. - Pinch-hitter Kurt Suzuki doubled in the winning run with one out in the ninth inning, and Oakland won back-to-back games for first time since July 10-11.
Joey Devine (4-0) pitched the eighth to pick up the victory for the A's, who went 40 games without a winning streak. Suzuki's double marked Oakland's ninth walkoff hit of the season and just the 11th victory since the All-Star break for the hapless A's.
Copyright 2018 The Associated Press. All rights reserved. This material may not be published, broadcast, rewritten or redistributed. We strive to uphold our values for every story published.