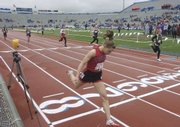 On a bright, sunny late-April day, there's perhaps no better place to watch a track meet than Kansas University's Memorial Stadium, site of the Kansas Relays for 80-plus years.
"It is beautiful," ninth-year KU track coach Stanley Redwine said of the annual spring carnival held in and around KU's massive 50,000-seat football/track facility.
As nostalgic as anybody else, Redwine isn't fretting over the fact the 2009 Relays may be the last held at Memorial.
Plans are in the works for a new 10,000-seat track facility (located south of Anschutz Pavilion by the old football practice fields) ideally to be opened in time for the 2010 Relays. No official announcement will be made on the new facility until funding is in place.
"I know there's a lot of tradition at Memorial Stadium. One thing is ... we are Kansas. It's a great time for a new beginning," Redwine said.
He believes the Relays will thrive in a more intimate setting.
"I think we'll put a better show on. If you have 10,000 people in a new stadium, it'll look full, compared to having 10,000 people at Memorial Stadium, (where) it looks like a failure," he said.
"I think it makes a difference how you perform more than anything else as it relates to the Relays. This is a great opportunity to have the crowd right up on, and screaming for, the people who are competing.
"This will be good for Kansas, good for anyone competing at the Relays."
Redwine says a new track-and-field facility figures to bolster KU track. New men's and women's locker rooms will be separated by a lounge for the athletes right in the middle.
"I think it's a great opportunity. The athletes want it," Redwine said of a new facility. "We have a 440-yard track right now. We are one of the only schools in the Big 12 with a 440-yard track. We'll have a 400-meter track. We are looking forward to that."
Redwine said it's important KU track not have to share a home with another sport like football.
KU football, of course, also will benefit if the field is lowered and fans are closer to the action.
"The biggest deal is it's ours. It's a great opportunity to bring recruits in, a great opportunity for everyone. Everybody gets to have something new. Change is good," Redwine said.
"We need a facility that will be competitive with others in the nation. If we want to start getting the top people in the nation at our facility, our university, we have to do it. All around us we have schools with new facilities, a new track and they are starting to do a great job. It's our turn.
"Lew (Perkins, AD) understands and recognizes that. It's a positive thing for KU. It's a positive thing for the track team. I am thankful the commitment has been made to help us out."
And the 2009 Relays?
This year's might be the best ever if marketed as the final spring track carnival in Memorial Stadium. Some big-time athletes might want to take part considering the nostalgia.
"I hope so. I think it'd be a great opportunity. With Milan Donley (meet director) over the Relays and with direction from our administration, we'll have a great Relays," Redwine said.
Copyright 2018 The Lawrence Journal-World. All rights reserved. This material may not be published, broadcast, rewritten or redistributed. We strive to uphold our values for every story published.