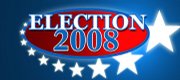 In-depth coverage of the candidates and the issues, all leading up to the Aug. 5 primary and the Nov. 4 general election.
Denver — U.S. Rep. Dennis Moore, D-Kan., on Thursday said he looked forward to the end of President Bush's administration.
Speaking to the Kansas delegation to the Democratic National Convention, Moore said the first President Bush "was a thoughtful, intelligent man."
The current President Bush, he said, "is a different story."
From the economy to foreign relations, Bush has put the United States in a hole, he said.
He said Democratic presidential nominee Barack Obama will "institute new policies that our country desperately needs."
Moore, a five-term congressman, faces Republican Nick Jordan in the November election. The 3rd Congressional District includes east Lawrence, and all of Johnson and Wyandotte counties.
Meanwhile, Kansas delegates reflected on the historic nomination of Obama on Wednesday. Obama is the first African-American to lead a major political party into the presidential campaign.
"The whole event last night was very uplifting," said Kathy Greenlee of Lawrence.
For the record, the Kansas delegation voted 34-6 in favor of Obama over U.S. Sen. Hillary Clinton, D-N.Y., who finished second to Obama through a grueling Democratic Party primary.
On Wednesday, Kansas voted before Clinton moved that a unanimous vote be cast for Obama.
Tess Banion of Lawrence, who had been a Clinton supporter, described her reaction: "We cried, we hugged and then I put on my Obama T-shirt."
Banion said there had been a "heaviness" all through the four-day convention on how to recognize Clinton's historic run.
She said Clinton met with her supporters before the vote and announced she would vote for Obama and released her delegates to Obama if they wanted.
"She strikes me as the kind of woman who doesn't dwell on what she doesn't have, but is happy for what she does have," Banion said.
Copyright 2018 The Lawrence Journal-World. All rights reserved. This material may not be published, broadcast, rewritten or redistributed. We strive to uphold our values for every story published.