Photo Gallery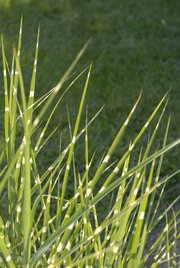 Douglas County Extension Demonstration Gardens
There is a lot of trial and error in gardening, particularly in this region of the world.
It's blazingly hot and humid one minute, a torrential monsoon the next, arid desert-like conditions the following day and then throw in a few picture-perfect afternoons. That, in a nutshell, is the hand that gardeners and hopeful gardeners are dealt in Kansas.
Some genius Douglas County Extension Master Gardeners were thinking about this in the last five or six years and collectively decided it would be good to make a group of gardens to see what actually grows in Kansas and what shrivels up back to the earth.
"Sometimes people don't feel sure enough," says Donna Black, president of Douglas County Extension Master Gardeners. "If they don't feel like they know what they are doing, they probably will not continue."
Deb Yager, another Master Gardener, adds: "When you go to a garden center, the plants look totally different then they do in their maturity. Here you can see the plant in its context."
The gardens are at the Extension Office, 2110 Harper St.
"Here you can match plants with our climate and choices of cultivars with the effect of the garden," Black says. "I could identify a coneflower, for example, but I didn't know much about it. I like success in my garden. I don't like planting things that die."
Beyond finding flora that we know to be a proven winner in our climate, interested gardeners also can visit these gardens in every season to truly witness what thrives in the spring, summer and fall and is of curiosity in the winter.
Our first garden is the Butterfly Garden, where dill, Echinacea, sunflowers, rudebekia and asters are some of the plants rooted here.
"It is a self-seeding garden, so we let it be and keep it pretty unstructured," Yager says. "We don't think the butterflies care."
On we go to the Grass Garden, one of my personal favorites. There is Karly Rose grass, Hameln grass, Strictus Porcupine grass, yellow Indian grass, Karl Forester grass and Cosmopolitan maiden grass, to name a few.
"We could use grasses more than we do. They are so hardy, so flexible and they can really fit into a lot of areas of the garden," Black says. "You can get grasses from the little short to huge. They'll fit into any space."
We meander on to the Bird Garden, where there is a little burbling fountain, birch trees, Rose of Sharon, Columbine and Pyracantha, to name a handful of sights.
Yager's advice for a successful bird garden: "You need to have water and trees for protection and even a shrub with thorns is good. Also, any plant that creates a berry, but the real key is a water source."
On the back fence near the Bird Garden are also some examples of vines that grow well in Lawrence.
Next we step over to the Rain Garden, which was an area that naturally attracted and pooled water when it rained; it is a general basin that was low and mushy after a wet spell. There you'll find such plants as Siberian Iris, day lilies, Karl Forester Reed Grass and Cleome. Yager has one word of advice for a low-lying marsh land: "Don't put cat tails in, they are very invasive and will take over!"
Our next stop is my second favorite garden, the Herb Garden. It is neatly sectioned off and is reminiscent of a French-themed herb garden. The Master Gardeners have used bricks and pebbles to create a wonderful little garden highlighting various herb uses.
"We have it marked for medicinal herbs, culinary herbs and aromatic herbs," Black says. "They are in raised beds and partitioned off because herbs can be invasive, but it really shows how many herbs you can have in a small space."
The Xeriscape Garden is certainly a timely one in the dog days of August. It boasts lots of sedums, succulents and Hen & Chicks, Snow-In-Summer, Yellow-horned Poppy and a plant I had never seen but thought was quite cool looking, Sea Lavender.
"When we start plants we help them with water to get them going," Yager says. "We water a little here, but the goal is to really establish this to the point that we don't have to water and just depend on the rain."
There also are a Shade Garden, a Low Maintenance Garden and a Shrub Garden that curious green thumb enthusiasts will learn a plethora from.
If you want to gain even more knowledge, visit the gardens on a Tuesday morning, when Master Gardener volunteers are working in the gardens.
"We enjoy talking to people who enjoy plants," Yager says. "It's fun to discuss a common interest."
Copyright 2018 The Lawrence Journal-World. All rights reserved. This material may not be published, broadcast, rewritten or redistributed. We strive to uphold our values for every story published.