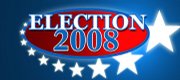 In-depth coverage of the candidates and the issues, all leading up to the Aug. 5 primary and the Nov. 4 general election.
Gov. Kathleen Sebelius on Wednesday said Democratic presidential candidate U.S. Sen. Barack Obama could win Kansas against Republican U.S. Sen. John McCain.
"We could surprise the nation," Sebelius said in a speech to the Kansas Democratic delegates at the DoubleTree Hotel.
She noted the last time a Democratic presidential candidate won in Kansas was in 1964 when Lyndon Johnson defeated Sen. Barry Goldwater of Arizona. Johnson won the national election by a landslide.
"We have this drill down," Sebelius said, noting that McCain is from Arizona.
It would be a shocker if Obama won Kansas; he trails McCain by double-digits in polls, and Republicans hold a significant voter registration advantage.
Sebelius said for Obama to win in Kansas, Democrats must reach out to voters who have in recent years shunned the polls out of frustration.
"This is the most important election in our lifetime," she said. Obama's experience in working across the aisle is what is needed, she said, to "break the partisan paralysis of the Beltway."
She also urged Democrats to work hard to elect more Democratic legislators. Republicans hold a 30-10 advantage in the Kansas Senate and a 78-47 advantage in the House.
Sebelius ended her short speech with the words "Rock Chalk Jayhawk."
Copyright 2018 The Lawrence Journal-World. All rights reserved. This material may not be published, broadcast, rewritten or redistributed. We strive to uphold our values for every story published.