General Election Numbers
¢ Turnout in Douglas County for the November 2004 presidential election was 78.7 percent.
¢ Currently, Douglas County has 77,229 voters.
¢ The last day to register to be eligible to vote in the general election is Oct. 20. Advance voting begins Oct. 15.
Source: Douglas County Clerk's Office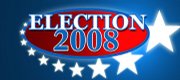 In-depth coverage of the candidates and the issues, all leading up to the Aug. 5 primary and the Nov. 4 general election.
Douglas County's top elections officer is predicting that the presidential race and other local races and questions that jam the Nov. 4 ballot will cure the recent dismal voter turnout.
"I honestly believe we'll set records in November," Douglas County Clerk Jamie Shew said.
Shew is still looking for 100 to 150 poll workers to help alleviate long lines on Election Day because he is predicting an 80 percent turnout.
During the 2004 general election, nearly 79 percent of registered voters turned out in Douglas County.
Other than deciding the presidential race, several congressional, state legislative and County Commission seats will be on the ballot along with three Lawrence sales tax questions and a Baldwin City school district bond issue.
Several justice and judge retention questions will also be decided.
"If you don't show up in November, you're probably never going to show up because there's something that's going to draw everybody out in November," Shew said.
The clerk's office is also encouraging people to cast advance ballots if they can to cut down on the number of Election Day voters.
Advance voting begins Oct. 15 at the Douglas County Courthouse, 1100 Mass. The clerk's office will also begin sending out mail-in advance ballots that day.
The final day to register to be eligible to vote in the general election is Oct. 20.
More information is available at www.douglascountyelections.com. Anyone who wants to learn more about being a poll worker can call the clerk's office at (785) 832-5267.
Closer to the election, Shew hopes to announce some satellite advance-voting sites in Eudora, Baldwin City, Lecompton and Lawrence.
Copyright 2018 The Lawrence Journal-World. All rights reserved. This material may not be published, broadcast, rewritten or redistributed. We strive to uphold our values for every story published.