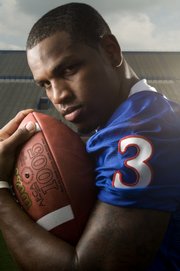 -->
Spodcasters
Sveltesville, Cliches and Jayhawk Football
Former Kansas football player Chip Budde joins the guys (Tom Keegan, Kevin Romary, Jesse Newell) as they talk about KU's upcoming game against FIU. Budde also offers insight on the techniques offensive linemen use to save their quarterbacks (and their jobs).
It wasn't a guarantee, the way Joe Namath's was when he predicted the New York Jets from the underestimated AFL would win Super Bowl III. It even stopped short of a prediction. Still, when Kansas University running back Jocques Crawford stated in such a confident manner his individual goal for the impending football season, the words left the few listening feeling as if they had just stuck their fingers into a light bulb socket.
As a sophomore last year at Cisco Junior College in Texas, Crawford, a native of Memphis, rushed for 1,935 yards and 19 touchdowns. Sure, KU has a much tougher schedule than Cisco Junior College, but he'll have more talented teammates, too.
"I think we're a really good offensive line, probably going to be the best offensive line I've ever played with," Crawford said. "I can only imagine how many yards I could rack up with a good offensive line like that."
Crawford became more specific.
"Honestly, when I talk to my family members, the personal goal I set for myself is I would rush for 2,000," Crawford said. "That's my personal goal. I don't know if I'll achieve it, but that's my goal."
Three running backs (Central Florida's Kevin Smith, Tulane's Matt Forte, Ray Rice of Rutgers) reached 2,000 yards in 2007 and none of them teamed with as prolific a passer as Todd Reesing. Jake Sharp will share the running duties with Crawford, another factor making his goal seem on the lofty side.
"It's a high number for college running backs, but especially after working with my offensive line and seeing the holes they open up against our ones (first-string defenders), I just feel that some day even me or Jake can accomplish, we can accomplish 2,000 yards together," Crawford said. "I just feel we have a good line, so I feel we'll have a lot of rushing yards this year."
Brandon McAnderson (1,125) and Sharp (821) combined for 1,946 yards and 23 rushing touchdowns in 2007.
For now, Sharp is listed as first-string on Mark Mangino's depth chart, which lists Crawford second, which doesn't necessarily mean anything.
"We only put out a depth chart because there's a public demand for it," Mangino said. "It can change before the ink dries. But right now, Jake Sharp is a veteran guy. He knows the system. He knows what to expect. Jocques is new with us. He's still learning, but he's going to play. Believe me, he's going to get a lot of carries. He's going to play a role in this game. But based on maturity, dependability and understanding the offense right now, we feel like Jake Sharp can carry the load of being the starter at this point. But don't worry, Jocques will play a lot. He'll play significantly."
Crawford's blend of speed, power and shiftiness make him an intriguing back. So does his ability to come out of the backfield to catch passes.
"I think we complement each other," Crawford said of sharing time with Sharp. "He's more of a speed back. I'm more of an inside-the-tackle and guard back. If they put us in there at the same time the defense won't know what to do."
Mangino usually goes with a one-back set and the current depth chart doesn't eat at Crawford, the junior said.
"I've talked to some of my teammates," Crawford said. "I prefer not to start. He's been here awhile. He worked hard this summer. Why should I start? I just got here. As long as I get in the game, that's my main focus right now, just do what I can do when I do get in the game."
Flashy words from a guy whose stated goal is to rush for 2,000 yards don't necessarily translate to an obnoxious showoff on Game Day. When he scores his first Division I touchdown, don't look for Crawford to spin the football.
"I'm going to give the ball to the official and then celebrate with my teammates and then not do anything like dance or high fives or anything like that," Crawford said. "I've never been one to celebrate touchdowns."
He always has been one to score them.
Copyright 2018 The Lawrence Journal-World. All rights reserved. This material may not be published, broadcast, rewritten or redistributed. We strive to uphold our values for every story published.