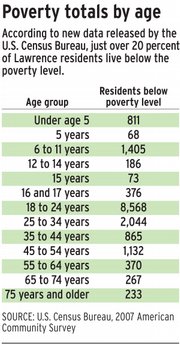 About 20 percent of the people in Lawrence are living below the poverty level, according to data released Tuesday by the U.S. Census Bureau.
That includes nearly 4,000 households with total incomes of less than $10,000.
The 2008 poverty level is $10,400 earned over a year by one individual, according to the U.S. Department of Health and Human Services. It is $21,200 for a family of four.
Information about Lawrence income and poverty rates is included in the bureau's annual report, "Income, Poverty and Health Insurance Coverage in the United States: 2007."
Representatives for two Lawrence social service organizations say the city's poverty level could be higher than 20 percent.
"Last month alone our (food) pantry served up to 700 people," said Jeanette Collier, director of East Central Kansas Economic Opportunity Corp. "Six new homeless families showed up at my office Monday."
And requests for utility payment assistance is "overwhelming," Collier said.
"I've probably had 35 people who are on a waiting list call me this week," she said.
Today's high prices for food, fuel and other necessities are causing serious problems even for people above the poverty level, said Paul Hunt, human resources director at the Ballard Center.
"I think the perception is that more people are having trouble even if they are higher up in the socioeconomic stratus because of prices," he said. "I would say (the census report) is not a surprise."
The census report's findings show that the national poverty rate in 2007 was 12.5 percent. There were 37.3 million people in poverty in 2007, up from 36.5 million in 2006.
But the median household income in the U.S. climbed 1.3 percent between 2006 and 2007, reaching $50,233. The median household income was $38,826 in Lawrence in 2007. It was $47,451 in Kansas.
Copyright 2018 The Lawrence Journal-World. All rights reserved. This material may not be published, broadcast, rewritten or redistributed. We strive to uphold our values for every story published.