Photo Gallery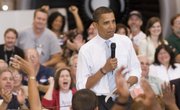 Obama in Kansas City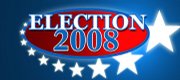 In-depth coverage of the candidates and the issues, all leading up to the Aug. 5 primary and the Nov. 4 general election.
The Democratic presidential candidate who has rocketed toward the nomination on statements about hope said Tuesday that fear about the economy is a major reason he should be elected.
"People are anxious. People are scared about the future," said Sen. Barack Obama, D-Ill., during a visit to an American Airlines hangar and overhaul base in Missouri. "And you know something about this in this facility."
Obama called his Republican opponent, Sen. John McCain, and President George W. Bush out of touch on economic issues during the town hall meeting.
As airlines face tough economic times, maintenance jobs are uncertain; in Kansas City, American Airlines has cut its work force by 2,500 people in eight years.
Obama and McCain have both campaigned hard in Missouri, where most polls show McCain opening up a lead. Obama is making stops throughout the country this week at town hall forums before officially accepting the Democratic nomination Thursday night at the party convention in Denver.
Ronald Armstrong, a Lawrence resident and American Airlines stock clerk, said Obama's remarks about trying to keep manufacturing jobs in the country resonate with most employees.
"People don't know who is making their aircraft, and that to me is very important," he said.
Armstrong, 55, has worked for the company since 1977. He was laid off in 2005 and returned to work there three weeks ago, but he also recently decided to take a buyout because more layoffs are coming. Armstrong also works driving a bus in Lawrence.
Broader economic issues
The economy is a major issue in the campaign amid a housing slump and higher gasoline and oil prices.
Obama said the country continued to lose jobs overseas during Bush's two terms. He also cited statistics that said since 2000 the average American family's income had dipped $2,000 while it went up $6,200 during President Bill Clinton's tenure.
He also criticized McCain for recently saying the fundamentals of the economy were sound.
"If you don't know how many houses you have, no wonder you think we've made great progress economically. No wonder you think the economy is sound," Obama said, referring to a McCain response to a question on the campaign trail last week about how many homes he owned.
Obama pushed tax credits aimed at helping middle-class families and helping Americans find jobs in plants aimed at producing alternative sources of energy.
"If people tell you we can't afford it, just remember we are spending $10 billion a month in Iraq, when they've got an $80 billion surplus," Obama said of the Iraqi government.
McCain support
But as Obama tried to reach out to blue-collar voters, McCain supporters said their candidate still should have the upper hand in the Midwest based on his experience.
"John McCain has had all those years where he has shown the ability to work on bipartisan legislation," said Kansas Rep. Pat Colloton, R-Leawood. "Barack Obama's brief tenure in the Senate has not shown the ability to work on bipartisan issues of any latitude."
Colloton, a McCain campaign chairwoman for the 3rd Congressional District in Kansas, said the Republican has also presented more broad-based and business-friendly plans for energy and taxes.
The McCain camp has stressed his foreign policy experience, which some pundits believe was the reason Obama tapped Sen. Joe Biden, D-Del., as his running mate.
Before more than 200 supporters and airline workers in Kansas City, Obama acknowledged that it would be a close race even during a tough political climate for Republicans.
But Armstrong, the Lawrence resident and Democratic supporter, said he expected Obama to connect more with voters.
"He is a man of the grass roots," Armstrong said. "He's been out in the trenches."
Copyright 2018 The Lawrence Journal-World. All rights reserved. This material may not be published, broadcast, rewritten or redistributed. We strive to uphold our values for every story published.