Photo Gallery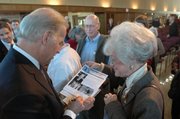 Joe Biden in Lawrence
U.S. Senator Joe Biden (D-Del.) spoke at the Dole Institute's "Contender Series" Friday, October 28, 2005 on the University of Kansas Campus in Lawrence, Kan.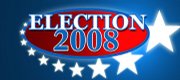 In-depth coverage of the candidates and the issues, all leading up to the Aug. 5 primary and the Nov. 4 general election.
Accra, Ghana — From confronting Russia to dealing with climate change, Barack Obama's selection of Sen. Joe Biden as his vice presidential candidate Saturday was seen abroad as adding weight and depth to the foreign policy of a potential Obama administration.
European analysts said the crisis in the Caucasus provided an appropriate backdrop to Biden's nomination.
In Accra, experts attending a U.N. climate change convention said Obama was sending a strong signal of change on what many see as a foreign policy debacle by the outgoing Bush administration regarding the battle against global warming.
"Biden owes his selection to (Russian Prime Minister Vladimir) Putin," said French political analyst Dominique Moisi. "Russia's invasion of Georgia reinforced the American worry about international tensions." The choice of the foreign affairs veteran was intended to reassure the electorate concerned about Obama's lack of credentials, Moisi said.
In Britain, the North America editor for the British Broadcasting Corp., Justin Webb, said Biden was "Vladimir Putin's contribution to American politics - he is a necessary antidote to the Obama lack of worldly wisdom, which before Georgia was a bit academic to most Americans."
Webb said Republican presidential candidate John McCain had acquitted himself well during the Russian invasion of Georgia this month. McCain "took the 3 a.m. call. Obama needs a pal who can do the same," Webb wrote in his blog.
Biden's selection drew mixed reviews Saturday in Iraq because of his call two years ago to divide the country into autonomous regions along sectarian and ethnic lines. The proposal, made in a 2006 op-ed article in The New York Times, drew sharp criticism, especially from Sunni Arabs who opposed autonomy provisions that were written into the Iraqi constitution in 2005.
"Basically, this is an internal American affair, but it is giving us cause for concern because Biden was clear in his calls to divide Iraq according to sectarian and ethnic lines," Sunni lawmaker Adnan al-Dulaimi told The Associated Press.
A spokesman for anti-American Shiite cleric Muqtada al-Sadr, who controls 30 seats in the 275-member parliament, said he doubted the Biden proposal would become American policy even if the Democrats win the November election.
The sentiment was shared by Kurdish elder statesman Mahmoud Othman, who said even if Biden is elected, he doubts it will make much difference "because it is the Iraqi people who will have the last say about their future."
In Germany, a member of Chancellor Angela Merkel's center-right Christian Democrats, Eckart von Klaeden, said Biden was "an exceptionally good decision, which shows how Obama is trying to organize all elements of the Democratic party behind him."
Biden's nomination created a buzz at the U.N. conference in Accra, where delegates from 160 countries were working on a successor to the Kyoto Protocol, the 1997 treaty regulating carbon emissions renounced by President Bush shortly after taking office in 2000.
Biden, chairman of the Senate Foreign Relations Committee, drafted climate change legislation as long as 20 years ago, and is an aggressive supporter of domestic and international efforts to rein in emissions of carbon and other greenhouse gases.
Copyright 2018 The Associated Press. All rights reserved. This material may not be published, broadcast, rewritten or redistributed. We strive to uphold our values for every story published.