Audio Clips
Lawrence Busker Festival
Photo Gallery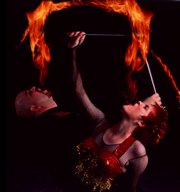 Busker Festival preview
Past Event
When: Friday, August 22, 2008, 6 p.m. to 10 p.m.
Where: Downtown Lawrence, Lawrence
Cost: Free
-->
-->
On the street
The only ones I've really seen are musicians, but I enjoy those quite a bit. It's a very real experience listening to them play more for the enjoyment of it and not to make any set amount of money.
Hate your desk job? In a twisted way, downtown Lawrence could offer you a career fair like you've never seen this weekend.
There will be fire eaters, sword swallowers, jugglers, magicians, musicians, living statues and other street performers in town for the first-ever Lawrence Busker Festival, which begins tonight and continues through Sunday.
The somewhat surprising thing is most of the 20 acts coming to town do this type of performing full-time.
"They're poor," admits Richard Renner, the festival's organizer and himself a street performer. "That's the common denominator."
The buskers - that's the British term for street performers - are from around the country, including such performance-friendly cities as Boulder, Colo.
If you're wondering how to become a professional street performer yourself, here are the stories of some of this weekend's performers for inspiration.
And, depending on the route you choose, you might check into getting your own health insurance before you go too far.
Busker 1: The fire eater
Robert Wolf once swallowed swords for a group of Secret Service agents in Hawaiian shirts.
It was the mid-1990s in Denver, and President Bill Clinton was coming to town. The agents had a night off after prepping the city for the president's visit.
After 20 years of performing, these are the sorts of gigs Wolf gets.
He performs with his wife of 13 years, Valerie, as The Wicked Liars. The couple met at a Denver magic shop.
The stage show is a mix of sword-swallowing, fire-eating, juggling and bullwhip targeting.
Wolf, who lives in Lenexa, holds the Guinness world record for the number of burning torches extinguished in a minute at 42. That feat, set at a 2004 Kansas City T-Bones baseball game, left him with second-degree skin burns, burns to his nasal passage, chemical eye burns and a lung infection.
Though fire-eating has its risks, Wolf says it's the sword-swallowing that is the riskiest.
"I pretty much put my life in danger every time I do it," he says.
But for the Wolfs, it pays the bills. Big corporate clients pay for them to entertain at parties and conferences. And he's opened for such musical acts as Ozzy Osbourne and Marilyn Manson.
He says there are only about 40 professional sword swallowers in the United States, so he's in demand. That was part of the reason he decided to take the plunge two decades ago into full-time performing.
"With the jobs I was doing to pay the bills, I decided I'd be happier if I lived under the bridge and was performing," he says.
So far, he's never moved to a bridge.
Busker 2: The 'band leader'
Stephanie Roberts has a day job. She's a music faculty member at the University of Missouri-Kansas City.
She moonlights as Lily, the Nazi-like leader of Boom! An International Lost and Found Marching Band.
"I don't know how much the tenure committee will consider that I'm wearing polyester hot pants," she admits.
Boom! has been around for just a few months. The premise: The five members, several of whom are UMKC students, play characters who were lost in childhood by their parents as they traveled the world doing scientific research.
They reunited to form the marching band, with each performing a song explaining his or her childhood. Each also plays a musical instrument.
"It's one thing to be a bunch of crazy characters in costume," Roberts says. "But it's important to be a tight ensemble."
No word on whether the doctoral students in the group plan on listing Boom! on their resumes.
"I would hope they would mention Boom!" Roberts says. "But I don't know how well it would do on the way to tenure."
Busker 3: The juggler
Jason Smith started off as a juggler. The fire came later.
He and Trenten Espinoza make up SureFire Shows, an act that includes a variety of performance arts, including juggling with fire and fire-eating. There's also acrobatics, including a two-person cartwheel.
The pair met five years ago working at U.S. Toy Company in Leawood. They started performing together and now are full-time showmen. Their gigs have included the Kansas City Renaissance Festival, the Fringe Festival and birthday parties.
"We pretty much just do what comes up," Smith says. "Over the years, people will want you back every year."
And that's worth an occasional burn, he says, on the way to - hopefully - more bookings.
"We take notes after our shows on what we can do to make the show better," Smith says. "It's a constant challenge. At first, I thought this whole thing would be really easy. It turned out to be a real job.
"We're kind of starving right now. But we're happy."
Busker 4: The piper
"Being a piper for any length of time is certainly knowing rejection," Kevin Gilstrap says.
He's sort of joking.
Gilstrap is leader of the Tullintrain West Pipe Band, based in Kansas City. Pipes, as in bagpipes.
Typically, there are 10 to 12 members performing at a time, including pipers and drummers. Gilstrap has been playing bagpipes since he was 13, and it even surprised him that his parents would allow him to start.
"They didn't realize how loud they would be," he says.
Tullintrain West is an Irish band, not to be confused with Scottish varieties.
"It's all pretty close," Gilstrap says. "The difference between Irish and Scottish folk music, if you're a real trained ear, you might be able to tell the difference."
This is not a full-time job for the pipers, but they enjoy doing it on the side.
Gilstrap does admit, though, that band members will be keeping an eye out for fellow buskers this weekend to protect their instruments.
"We'll avoid the fire-eaters and anyone spraying water," he says.
Copyright 2018 The Lawrence Journal-World. All rights reserved. This material may not be published, broadcast, rewritten or redistributed. We strive to uphold our values for every story published.