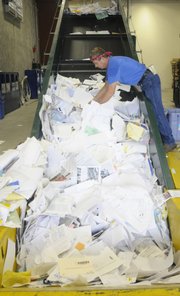 The National Report Card on Sustainability in Higher Education, released Thursday by the National Wildlife Federation, placed Kansas higher education entities 12th when it came to the push for green initiatives.
But of the 17 Kansas colleges and universities surveyed, only six achieved exemplary status. Kansas University didn't make the cut.
Jeff Severin, director of KU's Environmental Sustainability Center, said he was surprised that KU wasn't recognized for its efforts. Then he realized the university's failure to hit "exemplary" may have been his fault.
"We meet a lot of the criteria," he said. "I just didn't fill out some of the questions on the survey."
Kansas State University, Northwest Kansas Technical College, Johnson County Community College, Ottawa University, Pratt Community College and University of Saint Mary all received kudos for having either current sustainability activities or plans to implement them in upcoming years.
Severin said KU had met the same benchmarks. He pointed to the university's steadily growing recycling program and the development of a sustainability task force as proof of KU's efforts.
"We get so many of these requests for information we sometimes lose track of them," said Severin, explaining the incomplete survey.
The report card ranked the 50 states from best to worst in terms of how well school leaders supported green initiatives, the sustainability of campus operations and the study of sustainability in academics.
Washington led the states, but Willamette University in Oregon boasted the largest number of green efforts for one campus. More than 1,000 higher education institutions nationwide were surveyed.
The study showed that environmentally progressive operations had become one of the highest priorities in higher education. Not everything has improved, however.
Kevin Coyle, vice president for education and training at the NWF, said the most troubling aspect of the study was the apparent lack of academic programs geared toward sustainability education.
Midwest universities received a C for their low number of multidisciplinary environmentalism programs.
Severin said that's not the case at KU.
"Last summer we went through the course listings and pulled out classes that had a sustainability element to them," he said. "We then listed those on the Web site so people could choose courses that had those components."
The 136-page report was insistent in the need for environmental education.
"The men and women who, in 20 years, will lead our businesses, educational institutions and government agencies are in school now," the report said. "We need to offer them the kind of academic and professional preparation that will ready them to envision and create a different kind of world."
Copyright 2018 The Lawrence Journal-World. All rights reserved. This material may not be published, broadcast, rewritten or redistributed. We strive to uphold our values for every story published.