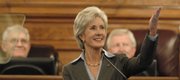 Kathleen Sebelius is the nominee for Secretary of Health and Human Services in Obama's Cabinet. She has served as Kansas' governor since 2002 and before that was insurance commissioner and a state representative.
Topeka — Gov. Kathleen Sebelius on Thursday could have outrun the Jamaican Olympic sprinters the way she slipped past reporters who were trying to ask about her vice-presidential aspirations.
After a brief event at Seaman High School, Sebelius jumped in her car, saying, "I know I'm off to Iowa," where she spent the day campaigning for presumed Democratic presidential nominee Barack Obama.
Meanwhile, Obama told reporters that he has settled on a VP selection, but he declined to comment further. His campaign has said his choice will be released in a text message to supporters before Saturday, when he's scheduled to appear with his running mate at a rally in Springfield, Ill.
Sebelius spoke in Des Moines to a group about pay equity issues, and was asked if it was flattering to be vetted by the Obama campaign.
"No one said I was being vetted," she said.
But Sebelius noted that she has won four statewide elections - two gubernatorial races and two contests for state insurance commissioner - in Republican-rich Kansas by wooing moderate Republicans who are unhappy with the social conservative wing of the party.
"We have taken advantage of this enormous split, an enormous split in the Republican Party," Sebelius said. "We have a lot of Republicans in Kansas who have much more in common with me than this new branch of their party."
Copyright 2018 The Lawrence Journal-World. All rights reserved. This material may not be published, broadcast, rewritten or redistributed. We strive to uphold our values for every story published.