On the street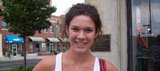 Over $500. Personally I don't pay for them - my parents do - but it's unfortunate that they have to pay so much for tuition and then for books on top of it.
Washington — The rising cost of college textbooks has driven Congress and nearly three dozen states to attempt to curtail prices and controversial publishing practices through legislation. But as the fall semester begins, students are unlikely to see much relief.
Estimates of how much students spend on textbooks range from $700 to $1,100 annually, and the market for new books is estimated at $3.6 billion this year. Between 1986 and 2004, the price of textbooks nearly tripled, rising an average of 6 percent a year while inflation rose 3 percent, according to a 2005 report by the Government Accountability Office. In California, the state auditor reported last week that prices have skyrocketed 30 percent in four years.
"It's really hard just paying for tuition alone," said Annaiis Wilkinson, 19 and a student at Trinity University in Washington who spends about $500 a semester on books. "It really sets people back."
Last month, Congress passed legislation forcing publishers to release more information about their prices. It also requires them to sell a textbook separately rather than packaged with a CD or workbook that makes for a more expensive purchase. However, the provisions do not take effect until 2010.
Meanwhile, although 34 states have introduced similar proposals over the past three years, only six states have approved them. Virginia passed its Textbook Fairness Act in 2005, but any impact of the new laws at the cash register remains to be seen.
"The principal goal of the legislation, which we are totally supportive of, is transparency," said Bruce Hildebrand, executive director of higher education for the Association of American Publishers, a trade group. "It's what the industry already does."
Used book trade
Costs for new textbooks have risen as publishers have tried to fight off an expanding trade in used books. The market for used textbooks began exploding with the growth of the Internet as students from across the country connected to buy and sell their books, cutting into the sales of new books and eating away at publishers' market share.
Publishers began making new books more attractive by packaging them with workbooks and CDs - but with a higher total price. They are creating custom editions for specific professors or universities, limiting the resale market for the books. They are making them indispensable by equipping them with one-use codes needed for access to additional course material online.
A microeconomics textbook put out by a division of Cengage Learning, for example, comes with an online activation card and costs $99. Buying a new activation card for a used book - if you can find one - is $79, nearly the same as the new book.
The case for new
Sales of used textbooks last year grew 15 percent to $2 billion, with double-digit growth expected through 2011, according to Simba Information, a market research group. Meanwhile, sales of new textbooks have grown by 4 percent to 5 percent annually, with the market this year expected to reach $3.6 billion.
Publishers dispute the notion that their textbooks are overpriced. Last fall, there were 216 introductory psychology titles competing with each other on bookshelves at prices ranging at retail from $23 to $120, Hildebrand said. Developing a new textbook is a costly venture with uncertain returns, and that risk is built into the price.
In addition, Hildebrand said, publishers are facing increased demands from students and teachers alike. Supplemental materials have become increasingly popular as students require more remediation and universities turn to part-time faculty and graduate students to teach courses.
Copyright 2018 The Lawrence Journal-World. All rights reserved. This material may not be published, broadcast, rewritten or redistributed. We strive to uphold our values for every story published.